MANASSEH'S FOLDER: The unbelievable truth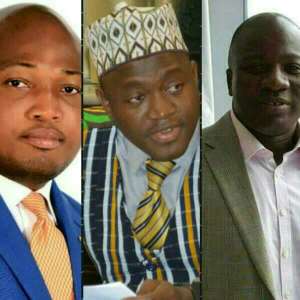 It started like a blockbuster movie plot with a climax everyone looked up to. But it ended in an anti-climax and took a rather humourous turn when the protagonist's signature on his apology letter was likened to an erect manhood. We are laughing it off on social media and when it's done we will move on.
Mahama Ayariga has generally become the villain in this story because his allegation that there was an attempted bribery of members of the appointments committee of parliament, was dismissed by the committee that investigated the matter.
On Newsfile two weeks ago, lawyer Ace Ankomah told the MP for North Tongu, Samuel Okudjeto Ablakawa, that he (Ablakawa) and his team of MPs who alleged that there was an attempt to bribe them had done a poor job. He told the lawmaker that he should have, at least, used his smartphone to record the process of returning the bribe money to the Minority Chief whip, Mohammed Muntaka. This, Mr. Ankomah said, could have been used as evidence.
Mr. Ablakwa, the MP for Bawku Central, Mahama Ayariga; and the MP for Tamale North, Alhassan Suhuyini; had alleged that the Energy Minister, Mr. Boakye Agyarko, had given a bribe of GHc3000 to each member of the appointment committee, which vetted him. The purpose of the said bribe was so that they would unanimously approve his nomination. Parliament set up a five-member committee to probe the matter. The outcome was very predictable. The committee said there was no evidence to support the allegation and found Mahama Ayariga guilty of contempt of parliament.
When Ace Ankomah told Okudjeto Ablakwa what he should have done, I thought it would not have amounted to anything fruitful. Who in Ghana has ever admitted or owned up to a secret recording? The Senior Minister, Yaw Osafo Marfo, told stories about manipulation of a recording when his own voice on an ethnocentric comment was leaked.
Perhaps, the clearest and most flawless secret voice recording I have heard in this country was a voice alleged to be that of the Efutu MP, Alexander Afenyo Markins who was alleged to have taken a bribe and was recorded while negotiating another bribe. The purpose of the alleged bribery, according to the recording, was to enable him to perform "legal gymnastics" at the Supreme Court of Ghana in order to have a case he had filed against the Agric Development Bank dismissed.
Alexander Afenyo Markin was sitting next to Okudjeto Ablakwa when Ace Ankomah advised him about the recording. When the voice, which sounded very much like that of Afenyo Markin, was released to the media, he denied it was not his voice. The alleged giver of the bribe also denied paying the bribe. Afenyo Markin went silent for a few months, resurfaced and went ahead to contest his seat and won.
If Ayariga or anyone had recorded their fellow MPs in this bribery saga, we would not have given them a listening ear. We would have called them wicked and unethical for secretly recording their fellow MPs. So the so-called evidence, for want of which we have decided to crucify the three MPs, would not have changed anything. Those who want to believe them will believe them. Those who don't want to believe them would not even if they produced an audio-visual recording of everything that transpired.
We are generally a hypocritical people. We are angry about corruption, but we are not prepared to deal with it when it involves people we know or whose political party we support.
The fact that there was no recording of the incident does not mean it did not happen. I had an interaction with a member of parliament who does not support Ayariga, Okudjeto and Suhuyini's decision to go public on the matter. He told me the money was, indeed, paid in respect of Boakye Agyarko, but it did not come from himself. Both the minority and majority members on the appointment committee, according to this MP, received the money. When minority members on the committee later heard that an "okro-mouth" MP knew about the deal, they decided it wasn't safe to keep it, for he would insult them with it one day and expose them.
READ Manasseh's Folder: Is the Chief of Staff a leper?
At that point, they all agreed to return it. It was at this point that some of them suggested the deal be leaked to the media. This caused a split because some of them said it should not be leaked. Ayariga, Ablakwa and Suhuyini were among the school of thought that the deal should be leaked to the media. They were the three MPs who openly said the money was paid to them to and they returned it.
The MP who told me this story believes Ayariga and his colleagues should not portray themselves as incorruptible paragons of virtues because they were not returning the cash based on any principles. It was based on the fear of being exposed one day that they came out with the story, he said.
My source explained that it was not the first time money was paid to members of the appointment committee. He said it was a norm that ministerial nominees who appeared before the appointment committee of parliament presented some "cola nuts" to the vetting committee. The MP for Tamale Central, Inusah Fuseini, also said on Joy FM that Mohammed Muntaka was more interested in protecting parliament than helping to get to the bottom of the matter. He said Muntaka had told him that he swore by Allah in order to appear believable. Muntaka has not denied this.
It is difficult to produce evidence to back what Ayariga and his colleagues said. Ghana may be a corruption-prone nation but we are yet to get to the point where we will offer receipts for bribes.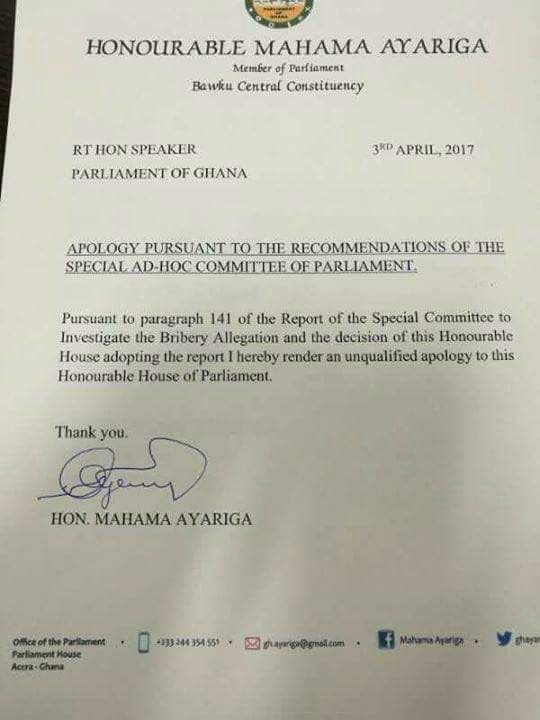 Mahama Ayariga's apology letter to parliament
Judging from the reaction on social media and from opinion leaders, it sounds stupid to believe what Ayariga and his colleagues alleged. But from what I know, I think I believe them. As an investigative journalist, I have met with officials and discussed very sensitive issues. These are off the record conversations and information. The fact that I have not recorded them does not mean those conversations did not take place.
I ever sat with a medical doctor for over an hour. He told me everything I needed to know about what I was investigating. When we did the first part of the story, he went on a different radio station and said he hadn't told me any such thing. We were compelled to play the secret recording.
In court, this one-hour and fifteen minutes' recording was played to him. His lawyer said that was not his voice.
I don't think Ayariga's evidence would have changed the outcome. He is not the first sitting MP to have said that some MPs take bribes to execute their mandate. He has apologised and parliament will continue to do its business as usual.
We the citizens of Ghana have let ourselves and the future generation down. We concentrated on the messengers and ignored the message. This was a golden opportunity to scrutinize our legislature and demand a more ethical and morally upright parliament. But, as usual, we have buried our heads in the sand like the proverbial ostriches.
We will continue to blame everyone else for the high level of corruption and underdevelopment of our nation. We will not remember how we often aid and abet these actions of our leaders. Many of the people who publicly condemned Ayariga and his group know the TRUTH! The silence and defence of those who knew the truth but decided to hide behind the lack of facts is a betrayal of our nation.
This is how we have been, and will always be until something miraculous happens.
The writer, Manasseh Azure Awuni, is a journalist with Joy 99.7 FM. His email address is [email protected] The views expressed in this article are his personal opinions and do not reflect, in any form or shape, those of The Multimedia Group, where he works.