Police Train More On Investigations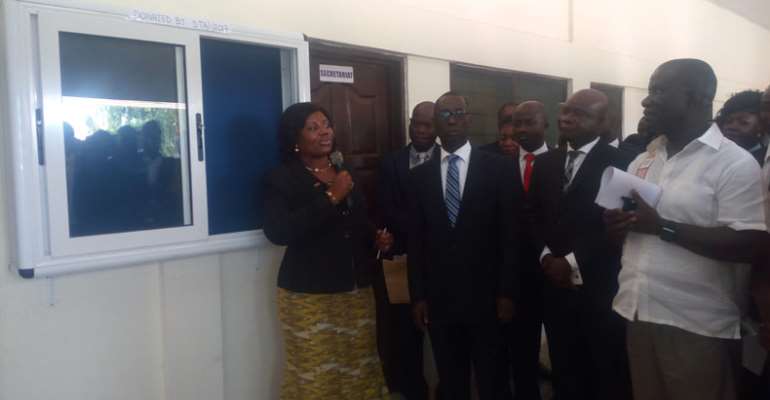 The participants presenting a notice board to ACP Maame Yaa Tiwaa Addo Danquah
Plans are underway for the police administration to train more of their untrained personnel who have been attached to the Criminal Investigations Department (CID) as aides by the end of this year.
ACP Maame Tiwaa Addo Danquah, Deputy Director General in-charge of the Criminal Investigations Department (CID), said this is aimed at sharpening their skills to enable them to carry out their detective and investigative work to the best of their abilities.
She made this known at the closing ceremony of a seven-week training in crime detection and investigations for 80 aides to CID for 2017.
The participants were drawn mainly from the Criminal Investigations Department, headquarters and Accra Regional Police Command.
The CID aides were taken through courses, including basic investigative skills, interview and interrogation, identification methods, preparation of dockets, surveillance and crime scene management, arrest, detection and searches, report writing and communication skills and others by resource persons from the Attorney General's office and other senior police officers.
ACP Maame Yaa Tiwaa said it is imperative to note that the need for professional capacity building in line with contemporary policing is extremely crucial for economic growth and the survival of every country.
"The CID Administration expects to see complete transformation in participants' performances and their attitudes towards work after the course," she stated.
ACP Addo Danquah urged them to eschew armed chair investigations and move to the field, meet witnesses to collect information and evidence instead of sitting in their offices and expecting information.
"Visit crime scene with the crime scene team and observe how they process the crime scene, collect and package evidence in a proper and professional manner and by so doing, you will be contributing effectively to the fight against crime," she added.
The deputy CID boss appealed to participants to be civil and treat the public with respect at all times.
The outgoing Commandant of the Detective Training School, DCOP Alex Amponah Asiamah, in an address disclosed that "due to the lack of accommodation, we are unable to select personnel from the other regions for the course and we appeal to the police administration to, as a matter of urgency, solve that issue for the others to also get the opportunity to learn."
Participants also presented a notice board to the school.
  [email protected]
By Linda Tenyah-Ayettey