Charlotte Osei responds to sex-for-position claims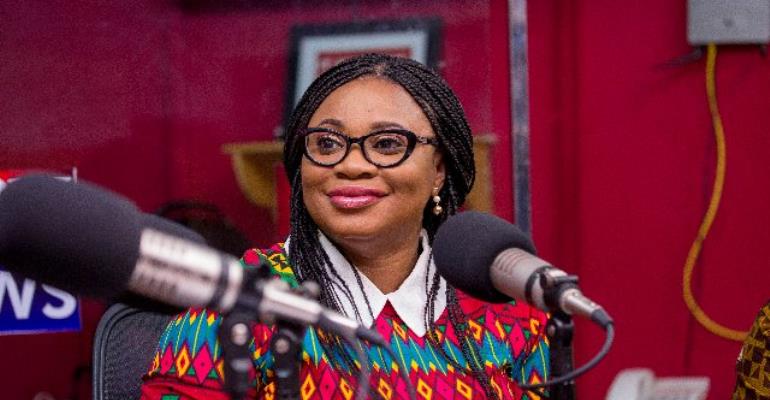 Chair of the Electoral Commission, Charlotte Osei says she is not perturbed by comments suggesting that she may have traded sex for the position she currently holds.
Speaking for the first time on the issue since she was appointed boss of the electoral commission by former president John Mahama, she said the comments don't bother her.
"My sense of self should not come from somebody who does not know me. If the person thinks I got my job through sexual favours, surely, there are other more rewarding and less difficult jobs I could use that sexual favours for.
"And in any case, this is man who is sleeping with other women, so why didn't he give the job to those women," she queried.
After Mrs Osei was appointed EC boss, Member of Parliament for Assin Central, Kennedy Agyapong said she was behaving as if she got her job by exchanging sexual favours and advised her to "bring your derriere in exchange for the EC Chair position".
Mr Agyapong was roundly condemned for the comments which he later said were taken out of context.
On the day set aside to celebrate women – International Women's Day – Mrs Osei responded to the issue.
She was answering a question posed by Samira Bawumia, wife Vice-President Mahamudu Bawumia, who hosted the International Women's Day edition of Joy FM's Super Morning Show.
Samira wanted to know how Mrs Osei felt when she heard the comments.
In response, the first female head of Ghana's elections governing body, the EC, said although it was unpalatable, she saw it as a challenge to do better.
In her view, men generally tend to prevent women from coming into their space, so once a woman is given the opportunity to be like them, they do all they can to bring her down.
"So they are going to throw everything at you to just to get you out of that space. Once you recognise that, then you recognize those comments for the distractions that they are and you just focus on doing what you have been called to do and to do an excellent job," she said.
Instead of letting this get to her, Mrs Osei said she draws strength from God and does only what she's been told by Him.
"That's all that matters to me. If God tells me, 'go and do this assignment', I may not like the assignment, but I have to trust that there is a reason why I have been asked to do it. And also you believe that the person who has sent you, will empower you to do it.
"So for me, that is my starting point, and so I go in with that confidence that comes from the person that has given me the assignment."
She bemoaned the societal attitude which tends to vilify all women and discriminate against them because one woman has failed at a particular assignment.
"We don't have the right to fail, to make mistakes or to be mediocre, men have been failing throughout history, but they do not think that other men should be judged by the failures of one man," she said.
She encouraged women to psyche themselves up that men will not give them the chance, but they must show up prepared to deliver and also give off their very best at all times.
"So you know that you need to apply yourself, you need to work really hard, you need to be very diligent in what you are doing and you need to constantly add to your knowledge base and your skills."
Mrs Osei challenged women to acknowledge that they cannot excel at everything they do at the same time and should not be hard on themselves when they fail at a particular thing while they juggle with their roles as mothers and career women.
She advised that women watch out for each other and "be more supportive and less judgemental of other women."
Story by Ghana | Myjoyonline.com | Naa Sakwaba Akwa | [email protected]