19 MPs never spoke in Parliament for 4-years – Report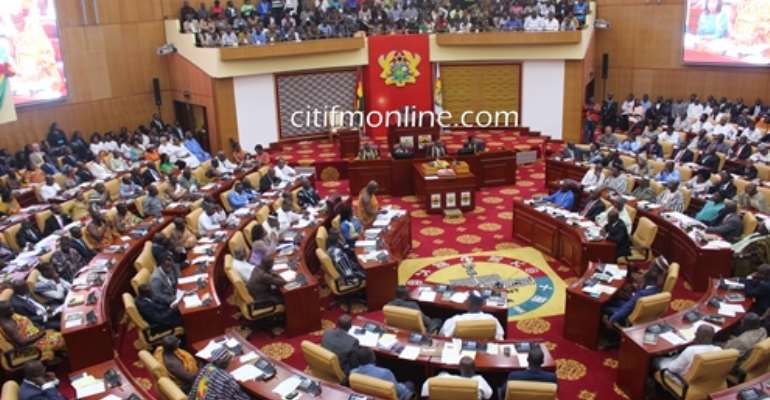 A new report assessing the performance of Members of Ghana's 6th parliament, shows that, some nineteen MPs out of the 275, never spoke on the floor of the House in the last four years of the sixth parliament.
The Member of Parliament for Old Tafo constituency, Anthony Akoto Osei, and that of Ketu South constituency James Klutse Avedzi, were among those who scored the highest marks in terms of attendance and performance.
The report among others, named the Member of Parliament for Dome-Kwabenya, Adwoa Safo, and the vociferous Member of Parliament for Assin Central, Kennedy Agyapong, as some of the worst performing legislators.
The report, produced by Odekro, a civil society organization with focuses on Ghana's governance system, said the worst performing MPs in the Sixth Parliament were Evans Paul Aidoo (Sefwi-Wiason constituency) who scored 11.50% on the report sheet. Queenstar Pokua Sawyerr (Agona east constituency) scored 16.98% while, Dr. Nii Oakley Quaye-Kumah (Krowor constituency) 17.09%.
Kennedy Ohene Agyapong (Assin Central constituency) 18.29% and Dr. Mustapha Ahmed (Ayawaso East), followed with 18.29% and 18.60% respectively.
The report identified 19 MPs who have never spoken on the floor of the house within the four-year period.
The 19 were made up of 16 in the then National Democratic Congress (NDC) majority, and the New Patriotic Party (NPP) minority.
A statement issued by Odekro on the report said, "We verified the completeness of our dataset by comparing our cache of data to a list of Parliament's sitting days obtained from staff of the Parliamentary service. On each sitting day, three documents are produced namely, the Hansard, Order Paper and Votes and Proceedings. Consequently, for each date on Parliament's calendar we have access to three primary documents."
"We verified the accuracy of this data set by confirming that each document bore the official seal of Parliament, followed the pattern of Parliament's formatting and was marked as having been produced by the Table Office or the Hansard Office respectively. Odekro's Content Manager and Research Assistant both verified each documentary source of our data," it added.
"We therefore assigned a weight of 40% of total score to attendance and 60% to the contribution score. Our rationale is simple. An MP's presence in Parliament is practically of no effect if he or she does not contribute to deliberations in the house. MPs who are both present and contribute should therefore normally be ranked better than MPs who make regular appearances in Parliament but do not contribute to the work of the house," the statement further said.
The report document indicated that 73 out of the 275 Members of Parliament were absent without permission; a violation of article 97(1)(c) of the constitution.
It also noted that, only 28 MPs held a clean record of never absenting themselves from the house without permission.
"19 MPs did not make a single statement in 4 years in Parliament."
"NPP MPs made an average of 199 statements over the 4 year period; 33 statements more than NDC MPs' 166 statements."
By: Jonas Nyabor/citifmonline.com/Ghana
Follow @jnyabor