Military Academy Gets Infirmary, Distill Plant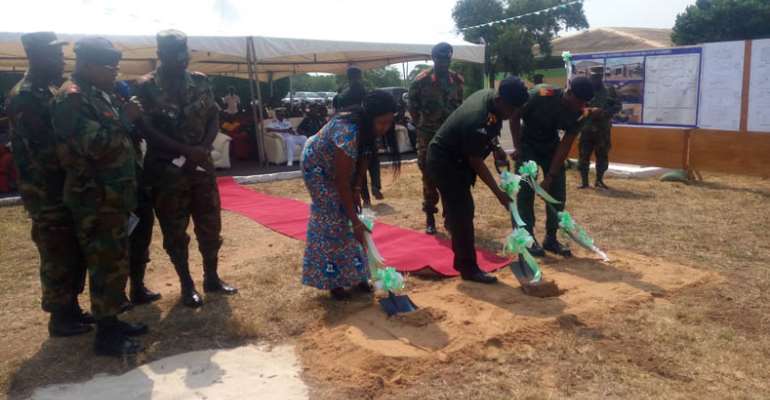 Major Gen. Obed Akwa (middle), Florence Larbi cutting the sod for the construction of the infirmary and water distilling plant
Work has started on the construction of an infirmary and a water distilling plant at the Ghana Military Academy.
The two projects, sponsored by Zoomlion Ghana Limited and Subah Infosolutions, would be completed in about eight months' time.
The infirmary will have five beds each in both male and female wards, a dispensary room and consulting room.
Commandant of the Ghana Military Academy, Brigadier General Michael Akpatso, in an address, said the command intends to transform the Ghana Military Academy into a first-class training institution that could rival sister institutions in the region.
He lauded the two companies for constructing water distilling plant and the infirmary to assist the academy.
"As a result of the nature of training in the academy, officer cadets are susceptible to all kinds of injuries which, if not managed within a stipulated time, could greatly affect the continuation of training of the officer cadets involved.
Brigadier Gen. Michael Akpatso said due to the lack of a well equipped infirmary in the academy, officer cadets have to be transported to the 37 Military Hospital each time they fall sick.
"Such visits to the hospital lead to the affected cadet being absent from training and this can eventually lead to the expulsion of the cadet from the academy all together.
He thanked the two companies for assisting the academy, adding that the building, when completed, will go a long way to help improve training and also assist in the treatment of sick or injured cadets.
On his part, Major Gen. Obed Akwa, the Chief of Army Staff, said over the period, the Ghana Military Academy has faced challenges in providing delicate medical cover and potable water for cadets due to financial constraints.
"It is therefore heartwarming and gratifying that private business and civil society organizations have come to the aid of the Ghana Military Academy."
Managing Director of Zoomlion Ghana Limited, Florence Larbi, thanked the Military Academy personnel for allowing them to construct the infirmary which will assist the cadet officers and personnel.
She emphasized the need to promote preventive health rather than theoretic.
Ms Larbi admonished officers to maintain the infirmary to meet the needs of the officer cadets.
( [email protected] )
By Linda Tenyah-Ayettey