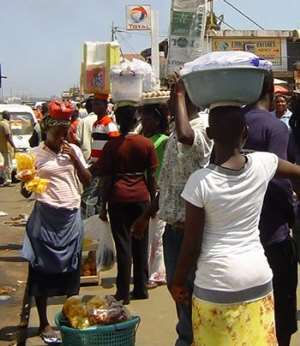 Accra, Jan. 13, GNA - A cross section of hawkers in Accra say they expect the new Nana Akufo Addo administration to bring to a stop what they term, 'harassment' by officials known as 'aabaye', who seize their wares and try to prevent them from selling along the road.
Accra Metropolitan Assembly (AMA) bye-laws prohibit hawking on the streets under its jurisdiction.
In an interview with the Ghana News Agency, the hawkers said the reason given by the city authorities for harassing them was that they were a nuisance, especially to motorists.
'It is not easy finding employment. We are only trying to help ourselves. I don't think the better option is for us to stop selling and go hungry because of unemployment,' said Stephen Gyimah, a 25 year old sweets seller.
Mr Gyimah said he for-instance sought to further his education through saving some of his returns but the activities of the 'aabaye' officials is frustrating his efforts and having an effect on his present and future livelihood.
'The focus of the government should rather be on creating jobs. Many of us would readily get into regular employment once it is available,' he said.
Clement Agyeman, 23, expressed the hope that the new government would bring an immediate halt to the harassment of hawkers by city authorities saying 'we do not want harassment by 'aabaye' people anymore.
He said it was not true that there was the option of staying in their various towns of origin and undertaking farming activities.
'Not everyone has access to land to farm on. That is the very reason why we are here. We do not want to be idle and hungry,' he said.
Mr Agyeman said a good number of his colleague hawkers were bread-winners in their respective homes adding that 'we also pay rent, school fees and all other bills'.
Owusu Benjamin, 21, Isaac Bornu, 23, and Opoku Price, 23, appealed to the new Nana Akufo Addo administration to 'have compassion on us and cease the harassment by the 'aabaye people''.
Benjamin said they were on the streets because they did not have the benefit of education, either because they were orphaned or had parents who were too poor to afford them an education.
'Some of us are taking care of ailing parents, our own education and younger siblings,' he said.
When asked if they knew about the AMA Bye-Law which prohibited hawking in areas under the AMA's jurisdiction, they said they were of the opinion that there could be regulatory measures but this should not affect their livelihood.
'The laws could be modified to guide us and also protect the work we do,' said Kwame Abeka, another hawker.
He expressed the hope that the 'elders would find a way of re-moulding the law to help us out'.
GNA