18 December 2016
|
Middle East
Ayurvedic Doctors Conduct Media Clinic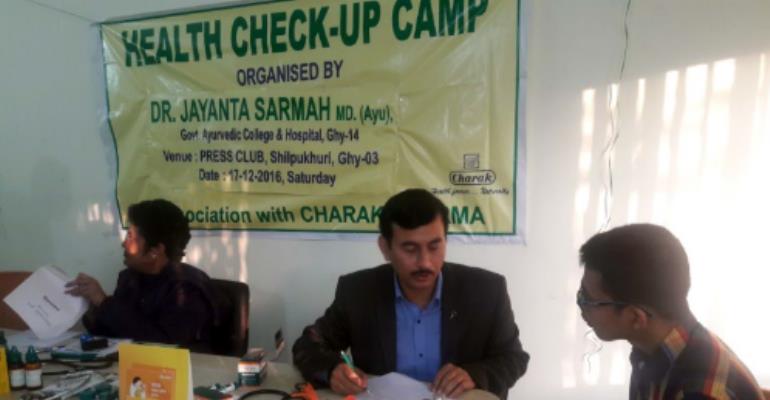 Guwahati: A group of physicians from Assam Government Ayurvedic College, Jalukbari on Saturday conducted the weekly evening OPD at Guwahati Press Club for the benefit of media persons along with their dependents.
Led by Dr Jayanta Sarmah and Dr Neelakshi Devchoudhury, the group comprising of Dr Chiranjib Mahanta, Dr Ruman Hussain, Dr Purnima Deuri and Dr Susmita Pegu examined the health status of the participants with random blood sugar, blood pressure and BMI tests. They were also offered health related consultations by the attending physicians. The camp was supported with necessary sample medicines by Himalaya, Charak and Franko India Pharma Company, which were represented by Indraneel Mitra Thakur, Arun Basfor, Sandeep Choudhury, Bhabesh Sarma, Utpal Kalita, Nabajeet Kaur and Bishnu Saikia.
The next evening OPD on December 24 will be conducted by Dr Manabendra Goswami (Surgery), Dr Arunima Goswami (Medicine) and Dr Ayona Barthakur (Gynecology) from Barthakur Clinic, Kharghuli (Guwahati).
The camp, where the participants will get free healthcare consultations in addition to checking sugar and blood pressure, is starting at 4 pm (to continue till 6 pm).
Till date, practicing physicians from Dispur Hospitals, Down Town Hospitals, GNRC Group of Hospitals, Narayana Super-Specialty Hospitals, Swagat Super-Surgical Institute, Wintrobe Hospital, Nemcare Hospital, Sun Valley Hospital etc have conducted the weekly camps in the press club.
Similarly, Medanta-The Medicity Hospital Gurgaon, Gauhati Medical College, Apollo Hospitals Hyderabad, Sri Sankaradeva Nethralaya Guwahati etc have shown interest in conducting the healthcare consultation programs in the coming days.