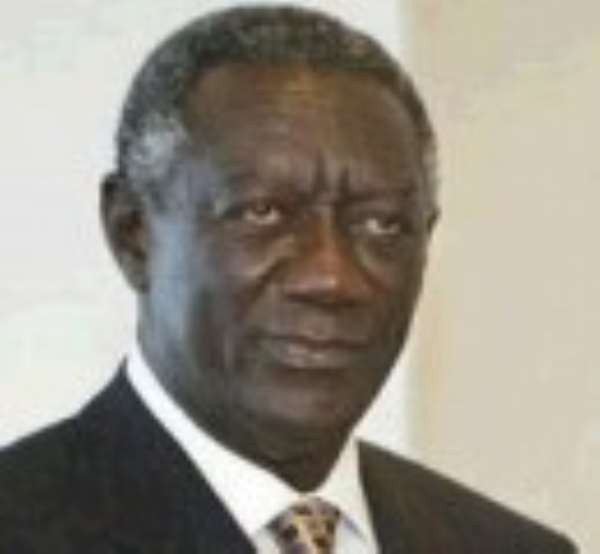 Accra, March 18, GNA - President John Agyekum Kufuor on Friday asked Ghanaians to forge ahead in unity to lift the country out of the quagmire of poverty.
"It is necessary we get together, get the economy right and resolve that this nation should be nurtured and weaned out of the tendencies of people who do not appreciate the values of being civil and show fellow feeling for the country's development," he said.
President Kufuor made the call when a delegation from the Presbyterian Church of Ghana led by the Moderator of the General Assembly, Right Reverend Dr Yaw Frimpong-Manso, paid a courtesy call on him at the Castle, Osu and to officially introduce the newly inducted Moderator to the Government.
Rt. Rev. Frimpong-Manso, who was inducted into office in December last year, is the 15th Moderator and the second Moderator of the General Assembly under the Church's amended constitution.
President Kufuor said it was unfortunate that the country fell into the hands of some undesirable characters who found themselves into leadership positions, demeaned the highest office of the country and crippled Ghana's economy with bad governance and mismanagement.
He said although Ghana was definitely pulling through from the period of mismanagement some Ghanaians had gone wayward in their analysis of national issues and should be brought to book.
"It is excessive liberalism which is trying to be chaotic. We want to build the nation with fellow feeling and respect for authority. This Government is self-restraining and will not be tempted to behave as other previous Governments who took advantage of the freedom of speech to destroy the entire system. The Government will not go their way."
President Kufuor said the Government would not relent to put all the national resources at the disposal of Ghanaians to develop the country, adding, "Ghana will be developed by Ghanaians". He said the Government would take into consideration a suggestion by the Moderator of the General Assembly of the PCG for periodic dialogue between the Government and religious bodies to facilitate the country's development.
President Kufuor said the PCG and other churches in Ghana had contributed tremendously to the country's development for the past 175 years in the education, health, agriculture and social services sectors. "We pray that you will conduct your office with wisdom, dignity and love for humanity and your tenure marked with success", he added. Rt. Rev. Frimpong-Manso appealed to the Government to continue with the consolidation of democratic rule in Ghana and pledged the support of the Church in the country's efforts to become the beacon of light and hope for the African Continent.
He called on the Government to consolidate good governance and its assistance to the private sector for the establishment of more industries to increase productivity and create more job opportunities for the youth.
Rt. Rev. Frimpong-Manso appealed to the Government to assist leaders of the religious bodies in the acquisition of travelling documents from the diplomatic missions in Ghana to ease the drudgery some of them go through when they had to travel outside the country. "It will be ideal to accord leaders of the religious bodies some sort of protocol in the acquisition of visas to ease the trauma some of them go through at the High Commissions and Embassies," he added. 18 March 05