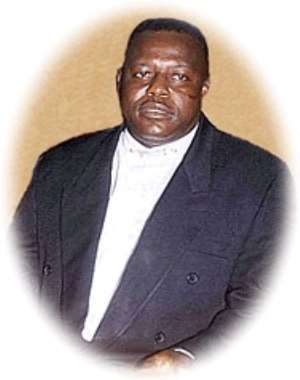 Amazing Altar call at Victoria Park by Dag nets controversial blowman Thousands of Ghanaians at Cape Coast witnessed one shocking spectacle last Sunday, when Mr. Isaac Edumadze, the lumbering lumberjack of a man whose name evokes fear and alarm across the region, answered an altar call, literally confessed Christ as his personal saviour, unchaining himself from the shackles of sin and damnation.
The Regional Minister, dressed in white lace gown and seated at the high table set at an organised rally at the seafront park, Victoria Park, shot up after a powerful preaching session by the youthful Bishop of the largest youth-dominated charismatic Church in Ghana, Bishop Dag Heward-Mills on Salvation.
The Minister, nicknamed 'Hercules' by The Chronicle for his immense physical strength and bully-boy standing, was the only man at the high table who answered the call from the Bishop, the fastest growing and richest Christian Church, Lighthouse Chapel.
He however had several hundreds of everyday people for company as they streamed to the forecourt of the elevated platform to be received into the fellowship of Christ, the Messiah. He was prayed for along with the hundreds, and ministered unto.
Earlier, Bishop Heward-Mills had preached that everyone is who he or she is, or has achieved, purely by the Grace of God. He recounted a story of a man who had survived an earthquake and was buried in the rubble for 14 days until a search team which had virtually given up on any survivor, discovered him alive beneath the rubble. When asked how he made it, the man was quoted to have attributed his survival to his determination and will power. His wife also gave a similar testimony about her husband's will power and determination as having accounted for his being. Less than a month later, the man suffered a major heart tremor, and succumbed. His determination and will power did not save him then. The essence of the sermon which probably went into the heart of Edumadze's being, may have stirred him enough to tug at his soul and precipitate that pleasantly surprising move, but which got some cynics wondering about the sincerity of his born-again status.
The event which took place concurrently with the 48th Independence anniversary activities at a different venue was packaged in collaboration with the Conservative Christian Churches led by Bishop I.K. Quansah, the Bishop of the Cape Coast Diocese of the Methodist Church, Reverend Allotey, Anglican Bishop of Cape Coast, and Dr. Donkor the Vice President of the Central Region Prayer and Evangelisation Committee who represented the Church of Pentecost, and Dr. Botchwey.
The Minister who is also the MP for the Ajumako-Enyan-Esiam Constituency, greeted the assembly after the Omanhene of Cape Coast had spoken, and confessed his nervousness during his vetting. He appealed to people he described as 'Pharisees to leave him alone' because he had become aware that people were determined to bring him down. He asserted that but for the Grace of God, he would not have been standing with them at that moment because people were determined to see him fall.
He then surprised his audience by describing Kofi Coomson as 'my brother', and observed that 'Thank God my brother Kofi Coomson had already revealed everything about me and my shortcomings in the newspapers already, so all I had to do was to prepare myself to deal with those issues, and surprisingly they never asked me anything else but what Kofi Coomson had written about.'
Edumadze also observed that as he entered the Parliament house for the vetting, an alarm that had never gone off for decades, went off at that moment, implying that there may be some significant harbinger of that event.
Whether the Damascus experience of Edumadze will be a nine-day wonder or a true spiritual transformation, remains to be seen, but Chronicle publisher Kofi Coomson, when asked to comment, noted that, whatever Edumadze may have said, or experienced was something he could not speak about since they were matters of the spirit and beyond him.
"I have nothing to say, but can refer him only to the Zaccheaus example of making full restitution for the things he may have said and done if he is serious with His experience of knowing and meeting God."
Zacheaus, like Edumadze (he worked with the Internal Revenue Service), was a tax collector who met Jesus and pledged to follow him and amend his ways. He pledged as well to make a double restitution for people he had cheated or whose property he had seized.
'No one but God has the power for forgiveness. Salvation is an individual thing', Coomson added.