18 October 2016
|
Tributes & Condolences
 Honourable Kwadwo Baah Agyeman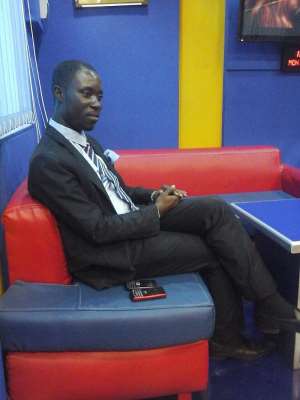 My phone rang one morning in November 2012 in the build up to our General elections and when I picked up, the caller introduced himself as K Baah, he was on a fact finding mission, apparently some friends who were campaigning against me had gone to him with falsehood and he wanted to verify before going on air to broadcast it on his most listened to weekend program on radio in kumasi " Breaking News". That was the birth of a new relationship.
I met you as a coursemate in Life but my chance encounter to really know you came when I became a member of parliament.
There I got to see the power and grace that you possessed as a person and your ability to manage all your responsibilities with amazing skills.
When you informed me that you were going to be the host of "Ade3 Akye abia" on Kessben TV, I was overwhelmed but was never surprised.
Knowing you, I said you were going to "be fine". And fine you were; you took on the challenges of a TV host in the Garden city with great dexterity.
You were so full of life, full of energy, affable, always had a smile on your face, focused and ambitious. I guess that was the initial attraction until I found out the substance behind the gentleman.
Confidence K Baah was loyal and driven...we didn't seem to have a lot in common when we met aside our names "Kwadwo Baah".
He was from Effiduase , I was not,He was catholic, I was not, He completed Opoku Ware School, I did not... But I could relate with him, I could relate with his goals, his ambition, his sincerity, his usual smile, his loyalty, his heart....
One thing kept us together.... the selfless side of Confidence K Baah ; the constant calls to check on me, always wanting to be of assistance..we dreamt freely, talked about our goals and life; what we wanted out of it...Those were one of my best memories of Confidence K Baah and that's the way I want to keep it.
A real professional as you were, K Baah was always ready to offer an advice on any issue you put across, you will never be forgotten of the support you genuinely gave in our fight with these nomadic cattle herdsman "Fulani's", though you don't come from Agogo you were selfless in offering your various platforms to wage this war with us. Agogoman wants to listen to you ....
Anyway, I understand it, some of these things are not within our control... But I lost you, I lost my friend. "Opanin" as you would often call me.
Life won't be the same without you ; I looked forward to you hosting me on Kessben TV.
I will miss you my friend.
I Just checked my call log again. We spoke on Saturday morning by Sunday morning, you were gone.
I'm proud of you my friend and I will always cherish the faith you had in me.
Till we meet again!
Rest well my friend
Rest well Confidence K Baah
Honourable Kwadwo Baah Agyeman
Member of Parliament
Asante Akyem North Constituency