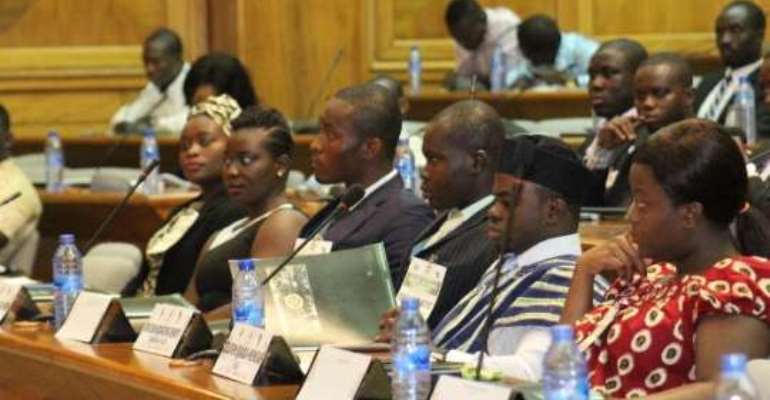 West African leaders urged to empower the youth
By Kwamina Tandoh, GNA
Accra, June 3, GNA - The second edition of the Model ECOWAS Summit has been held in Accra with a call on African leaders to focus on empowering the youth to attain their goals.
Speaking on the theme: ''Accelerating Youth Empowerment for Sustainable Development; Bridging Cultures to Achieve Peace and Development,' Mr Paul Cudjoe, the Deputy Director, Ministry of Foreign Affairs and Regional Integration, said it was time ECOWAS leaders worked towards self-development of the youth to play a major role in development.
''The youthful potential of West Africa is good for our development and the time is now for a concerted effort to harness their potential and inculcate in them the need for self-reliance," he said.
The summit, organised by the Concerned African Youth Forum, under the auspices of the Ministry of Foreign Affairs and Regional Integration, brought together the youth, civil society actors, private sector and stakeholders to deliberate and share ideas on issues faced by Africa.
It was attended by 300 participants from 15 West African countries.
Mr Michael Opeyemi Ige, the Executive Director of Concerned African Youth Forum, said the summit was to empower and build potentials of the youth to contribute to Africa's development as well as inculcate in them a sense of nationalism.
He said it provided an avenue where the youth of ECOWAS member states could convene and be empowered to achieve higher goals.
''That is ensuring that the youth actively engage development partners, civil society and government to contribute to developmental issues through dialogue,' he said.
He appealed to Chair of the ECOWAS Commission, President Marcel Alain De Souza, to integrate youth activities that would empower the youth through skills training.
The summit, which is a high research based programme, follows the format of the ECOWAS heads of state and government meetings.
The summit discussed issues like promoting harmony through inter-religious and cross-cultural dialogue; the role of women in fostering peace and security, conflict resolution and peace-building; and the role of the youth in harnessing the positive power of social media to ensure peace and security.
The outcome of these discussions would be presented to the ECOWAS Commission for consideration and implementation.
Ms Fusena Aziz, the Leader of Ghana's Team, in an interview with the Ghana News Agency, said the summit would go a long way to build individual confidence and prepare the youth for future leadership roles.
GNA