Tigo donates tablets to boost Automated Birth Registration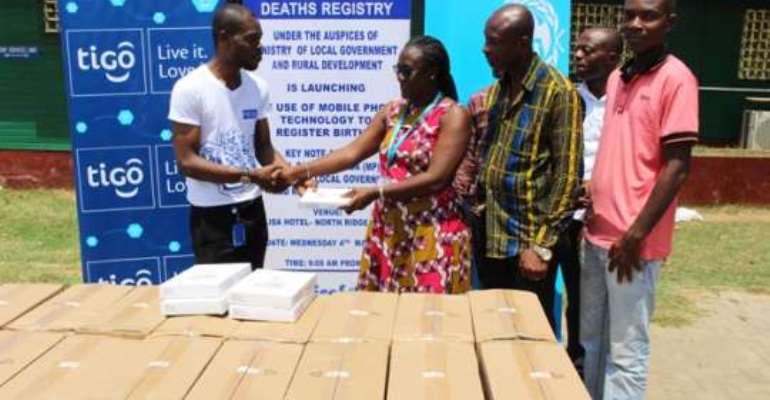 Accra, May 31, GNA - Tigo Ghana has presented 540 tablet phones with internet connectivity to the Births and Deaths Registry (BDR), for the pilot phase of the automated birth registration programme.
A statement from Tigo said the move is part of the company's strategic focus in working with UNICEF to accelerate birth registration in Ghana through mobile technology.
The tablets would allow birth registration attendants from the Births and Deaths Registry to electronically capture details of all new births in 300 communities across Ghana.
Launched in May, the automated birth registration programme is expected to make a significant contribution to an improved national average registration rate, an increase from 65 per cent of all children under age one to at least 75 per cent by the end of 2017.
A successful pilot would also contribute to progress under Ghana's National Civil Registration and Vital Statistics Strategic Plan 2016-2020, which aims at reaching 100 per cent of children by end of 2020.
Based on experience in other countries like Tanzania and Uganda, Tigo Ghana partnered with UNICEF Ghana in developing the new automated birth registration system.
The outcomes for the children are clear.
It would eliminate the lengthy and ineffective manual birth registration procedures.
Through mobile technology, the new registration process marks a significant shift in accelerating birth registration in Ghana, while monitoring and tracking the performance of field agents in real-time.
For Tigo, the investment in the automated birth registration system forms part of its broader digital lifestyle agenda which focuses on constant connectivity to work, create and share in a joined up way.
UNICEF on the other hand remains committed to the welfare and wellbeing of children. An automated birth registration system will establish a strong foundation to build a new generation with official legal identity documents.
The automated birth registration system is the first of its kind in Ghana.
GNA