One person dead, dozens injured as buildings submerge in Akosombo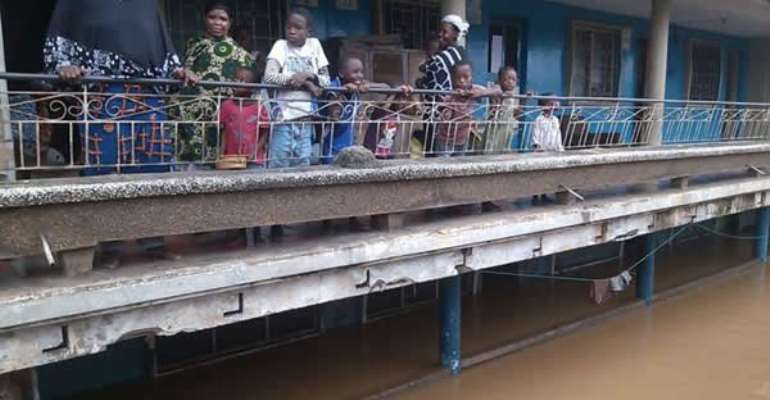 One person is reportedly killed as severe flooding hit Akosombo in the Asuogyaman district of the Eastern region, NADMO Coordinator for Akosombo, has disclosed.
According to Luv Joy Dusi, dozens suffered varying degrees of injuries after the buildings submerged in a fashion he has not seen before.
There has been a renewed debate about the architectural design of the entire country as the recent rain leaves most areas flooded.
Whilst many have berated the manner in which permits are given to building contractors and individuals to put up structures, others believe the lack of political will to demolish structures on waterways on the part of the governing class is responsible for the recent state of the country.
Reacting to the issue on Joy News, Mr Dusi said pupils of some two schools, the Akosombo Presby Primary, and Akosombo International Primary School, were stuck because of the rain.
Picturing happenings, he said, "They[the students] could not move out because the first floor was submerged and we had to move them to the second floor."
Meanwhile, President of the Contractors Association, Martins Nnuro said the construction of drainage system in the past was not done properly resulting in the current challenges the nation is facing
This, Mr Nnuro believed could be addressed if the government will build a new, bigger and better storm drains to prevent disastrous floods in Accra.
He cautioned residents in flood-prone areas in Accra to brace up for more floods in the coming days.
In a related development, the government has disclosed its slums redevelopment plan is on course with special emphasis on the Ashaiman and Nima areas.
The deputy Minister of Water Resource, Works, and Housing, Samson Ahi said special attention would be given to individuals living on the streets when the project is ready.