A Mismanaged Economy Affects Every Tribe – Nana Addo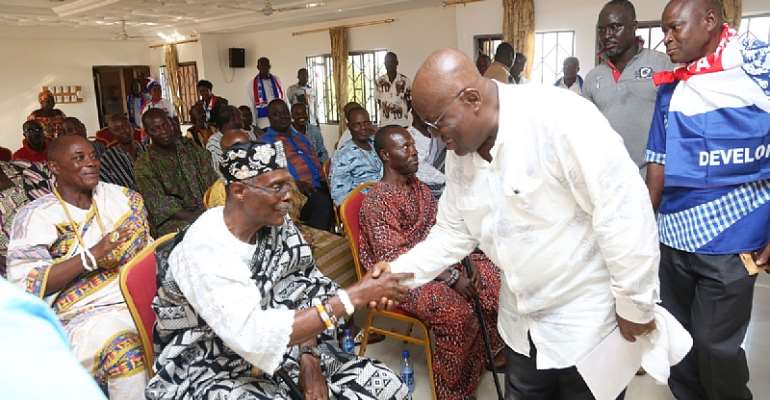 The Flagbearer of the opposition New Patriotic Party (NPP), Nana Addo Dankwa Akufo-Addo, has said the effects of a mismanaged economy transcends ethnicity, as everyone irrespective of their tribe is affected.
He mentioned for instance that the rippling effects of the Mahama led administration's mismanaged economy has led to high cost of living, high utility tariffs, record levels of unemployment, fuel price hikes, a weak currency, dwindling economic growth, low wages, high interest rates and a resumption of the erratic nature of power supply, which affects every Ghanaian anywhere.
These effects, he added, should thus serve as a stark reminder of the fact that the choices the Ghanaian electorate make on who leads them have consequences for them.
Nana Addo therefore advised that the choice of whoever becomes President of Ghana in this year's election must be devoid of ethnic considerations.
"In this 21st century, we should not be interested in tribal and ethnic politics. It won't get us anywhere. This century is about knowledge, technology and innovation. We want our best people forward. It is about competence, quality, honesty and integrity. That's what we should be looking out for," he said.
Nana Akufo-Addo said this known when he addressed separate meetings of 64 Chiefs from Akatsi South and Akatsi North, in Akatsi and Ave Dakpa respectively, on Friday, May 20, 2015.
Drawing comparisons between the case of Cote d'Ivoire, a country which, until 6 years ago, was embroiled in civil war, but has now become the number one investment destination on the African continent, resulting in an economic boom for the country, Nana Akufo-Addo stated that Ghana, once the poster boy of economic success in Africa, is however on the decline.
"…It shows you that correct policies, under correct leadership, can transform a nation. We can also prosper in Ghana. I am 100% convinced that we in Ghana, can do even better than Cote d'Ivoire," he added.
The purpose of his visit to the Volta Region, he told the gathering of Chiefs, was "to come and repair the relationship between the NPP and the Volta Region. For too long there has been a distance between us, and it is in the interest of Ghana that this year, for this election, the Volta Region and the NPP walk side-by-side".
Nana Akufo-Addo urged the Chiefs and people of Akatsi and Tongu to "give us a chance this year. Let go of the propaganda. Give the NPP a chance, trust me, and I won't disappoint you. I am coming to do a good job for all of us. We have a big programme for the development of our nation."
–
By: citifmonline.com/Ghana