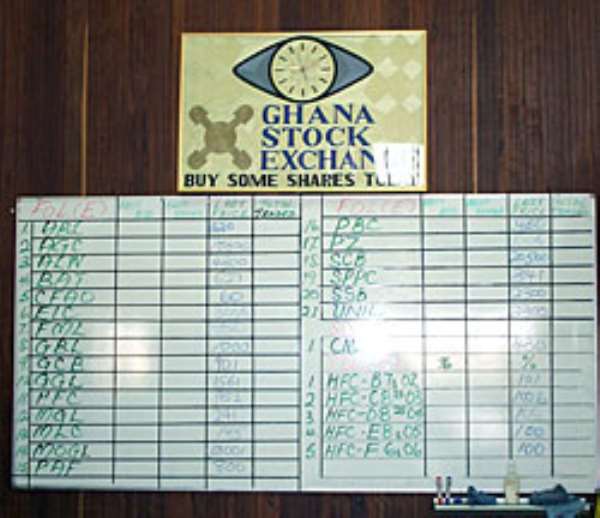 Accra, Dec. 10, GNA - The Ghana Stock Exchange went up again on Friday as the bourse continued a slight recovery. The GSE All-Share Index, the main market bourse, ended up 7.69 points to 6,778.28 points in trading that saw another bulk trading in CAL Bank shares.
Total number of shares traded was 2,040,100 out of which CAL Bank sold 1,660,900.
Change for the year was up at 90.75 per cent while market capitalisation ended at 96,943.79 billion cedis. On the broader market, there were four price changes - all positive.
Clydestone was 120 cedis better at 1,330 cedis, CAL Bank rose by 100 cedis at 3,400 cedis, Camelot was 80 cedis better at 970 cedis and Ghana Commercial Bank inched up by one cedi at 10,061 cedis.
The following are the last prices of listed equities in cedis:
ABL 1,480 AGA 300,000 AADs 3,006 ALW 10,000 BAT 7,700 BOPP 6,500
CAL 3,500 +100
CFAO 200
CLYD 1,330 +120
CMLT 970 +80
CPC 1,000 EIC 8,000 FML 20,000 GBL 1,500
GCB 10,082 +1
GGL 12,700 HFC 10,000 MGL 275 MLC 3,100 MOGL 39,000 PAF 800 PBC 3,600 PZ 4,700 SCB 170,000 SPPC 390 SG-SSB 27,000 SWL 290 TBL 31,000 UNIL 22,000