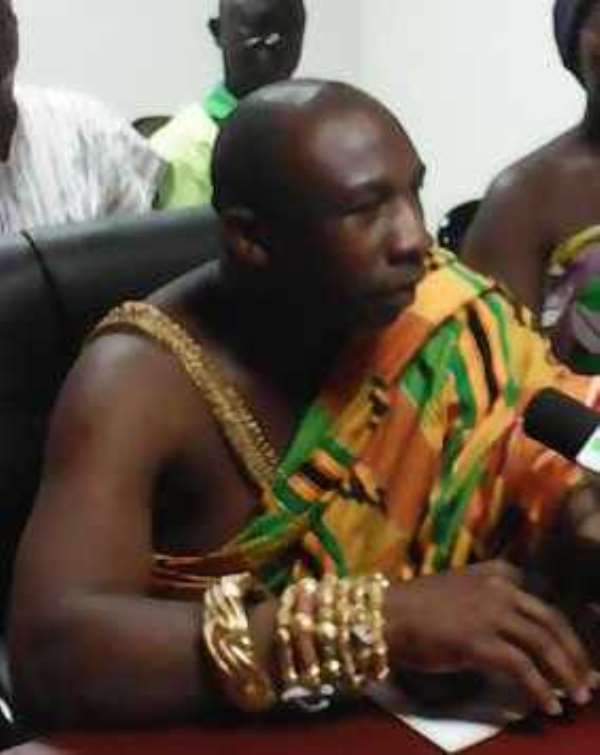 Suma-Ahenkro (B/A), Mar. 21, GNA - Odeneho Dr. Afram Brempong III, Paramount Chief of the Suma Traditional area, has conferred the honour of 'Suma State Adinkra Award' on Ex-President Kufuor, President John Dramani Mahama and Mrs. Georgina Theodora Wood, the Chief Justice for their sterling contributions to Ghana's development.
A popular Ghanaian gospel artist, Ms Grace Ashy, was also enstooled the 'Nkorsuor Hemaa' (development queen) of Suma Traditional Area with the stool name Nana Yaa Adepa.
This was at a ceremony climax this year's annual Suma Akwantu Kese Festival at Suma-Ahenkro in the Jaman North District of Brong-Ahafo Region, during the week-end.
The latest Akwantu Kese Festival held under the theme 'Culture, Education and Development' is an occasion to commemorate the migration of the Suma people centuries ago from Akwamu, their ancestral home in the present day Eastern Region to the present location.
The event also immortalizes one of its late legend King, whom it is claimed received the Adinkra symbols and concepts, through spiritual inspiration from ancestral spirits about three centuries ago.
Odeneho Dr Afram said the institution of the Adinkra Award and a commemorative lecture ties in with the proposed establishment of an International Adinkra Village at Suma-Ahenkro , to honour and eulogize past and present Ghanaian natives whose exemplary acts has inspired commitment, patriotism, selflessness and creativity for national development.
He appealed to politicians in the Country to protect the peace in the country and avoid making inflammatory statements that could plunge the nation into chaos, during electioneering campaigns towards the Election 2016.
Nana Sumahene said election was not meant to fight each other but to promote and demonstrate the beauty of democracy for any political party that would emerge victorious to carry out his mandate in a peaceful environment and not in a nation torn apart by turmoil.
The Paramount Chief appealed for government's support in the establishment the Suma Traditional Council in the establishment of the proposed International Adinkra Village at Suma-Ahenkro and said that could generate income through tourism promotion for the acceleration of national development.
He also called for government's aid in the development of a satellite campus of the University of Energy and Natural Resources at Suma-Ahenkro to promote higher education in the area.
Former President John Agyekum Kufuor who graced the occasion, advised Ghanaians to assist in ensuring the Election 2016 was conducted free and fair because 'democracy is about sharing of ideas and not do and die affair'.
He reminded the political parties and their followers that Ghanaians were one people and must therefore focus on issues in their campaigns with the interest of the people at heart to promote national cohesion and progress.
Mr. Johnson Asiedu Nketia, the General Secretary of the National Democratic Congress (NDC) who represented President John Dramani Mahama also corroborated the need for peace and assured that the NDC and its supporters would also contribute to ensure peaceful Election 2016.
GNA