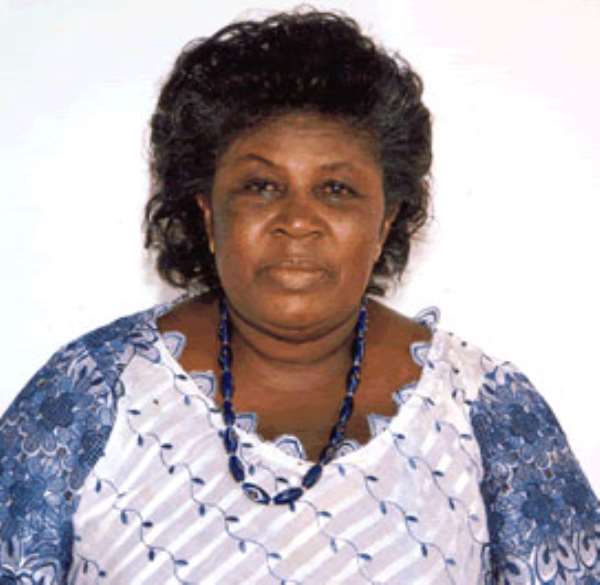 Aflao, Nov. 26, GNA - Mrs Theresa Kufuor, the First Lady, has said the country urgently needed to sustain a relevant and vigorous campaign against HIV/AIDS to influence majority of the people, particularly, the youth.
She noted that though awareness about the disease stood between 90 and 99 percent in the country, "there is still a big gap between that and the expected change in behaviour".
Mrs Kufuor said this on Thursday, when she inaugurated the Abidjan-Lagos HIV/AIDS Corridor Project (AICO) Awareness Caravan at Aflao.
The Caravan dubbed "Love Life Caravan," was on its way from Nigeria through Benin, Togo, Ghana, en-route to Cote d'Ivoire. Nigeria, Benin, Togo, Ghana and Cote d'Ivoire formed the AICO with World Bank support to jointly fight the rapid spread of the HIV/AIDS pandemic in border communities along the highway (corridor) linking the five sister West African nations.
The long corridor used by over 250 million travellers, including drivers annually is home to commercial sex workers that has been identified as a major breading ground of the disease in the sub-region. Coca-Cola Africa Foundation of the Coca-Cola Company is sponsoring the one-month float amidst entertainment and education.
From Aflao, the Float will continue to Accra, Tarkoradi and arrive at Elubo by December 1. It will end in Abidjan on December 9, this year. Mrs Kufuor commended the governing body of AICO for the realisation that the success of the HIV/AIDS campaign would come about only through enhanced sensitisation and therefore came out with the Corridor Project. She was optimistic that the Coca-Cola Africa Foundation Caravan would make a positive impact on the general public and advised the youth as the country's future leaders and labour force to avoid risky lifestyles to protect themselves.
The First Lady who is also President of the Mother and Child Foundation launched its Aflao branch and appealed to AICO to consider providing vitamins, food supplements and anti-retroviral drugs to People Living with HIV/AIDS (PLWHAS) to prolong their lives.
Professor Sekyi Amoa, Director of the Ghana AIDS Commission (GAC) and also Vice-President of the AICO Governing Board, said the Coca-Cola Foundation had through the Caravan fulfilled the vision of the five countries making up the Corridor in tackling the spread of the disease.
"We were concerned that if nothing was done we would risk the chance of exposing our people who travelled along the route to getting infected," he said.
Mr Djibril Tobe, West African Area Manger of Coca-Cola stated that the month long float would cover 1,000 kilometres and would reach out to about 50 million people with the awareness message. 26 Nov. 04