Vodafone Ghana presents Icons award to Accra Academy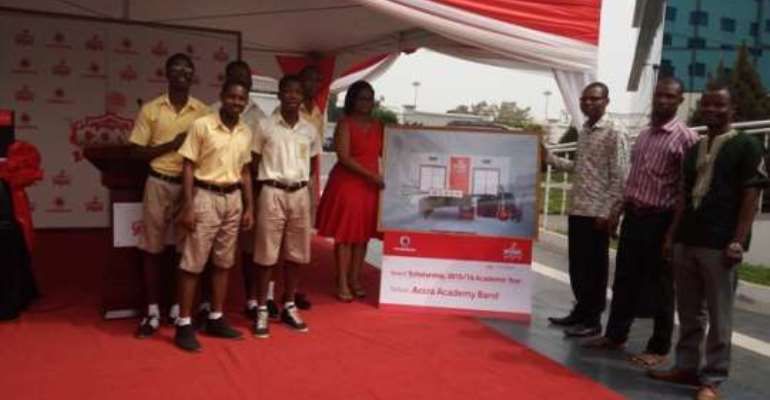 Accra, Feb. 5, GNA - Vodafone Ghana has presented the awards of the 'Vodafone Icons, High School Edition' to the participating and winning schools after undergoing a musical competition.
The awards were presented to the Accra Academy; Osei Tutu, Christian Methodist and Opoku Ware Senior High Schools as well as Adisadel and Presbyterian Boys Colleges at the Head Office of Vodafone Ghana in Accra.
The winning school, Accra Academy which was represented by Samuel Bissue Fiifi, Nyankson Joseph, Enoch Nketia, Bright Akwasi Gyamfi and Jeffrey Cofie received a set up music studio, and laptops with fibre connectivity.
Each of the participants from the Accra Academy also received an educational scholarship for a full year, a trip to Turkey and a chance to participate in the global high school musical competition.
The other participating schools also received a number of items including smart phones and PA Systems from Vodafone Ghana.
Ms Agnes Emefa Essah, Chief Marketing Officer of Vodafone Ghana, said they realized that focus on its musical competition was on adults only, therefore they found it necessary to give the youth especially high school students the opportunity to prove their talents.
'Power to you means we want to empower people and make them discover their real potential and that is why Vodafone always thinks about the needs of its customers first', she said.
Mr Patrick Kofi Mensah, Assistant Headmaster, Administration of the Accra Academy, said the school is happy with the fact that the competition goes with an award that will benefit all the participating students as well as the entire school.
'We are also very grateful that Vodafone has educated the students on music and stage performance and we are also grateful to them for lifting the image of Accra Academy and adding image to it', he said.
Mr Kofi Mensah said even though the competition made academic work challenging for the school's participants, the administration made an arrangement for them so that they would lose nothing and rehearsed daily after school.
'Now it is as if any member of our school is a Vodafone Icon because the competition has placed that tag on the school's image and motivated all our students', he said.
He said the Academy will re-take the lead in the competition this year because the school has previous knowledge and experience.
GNA