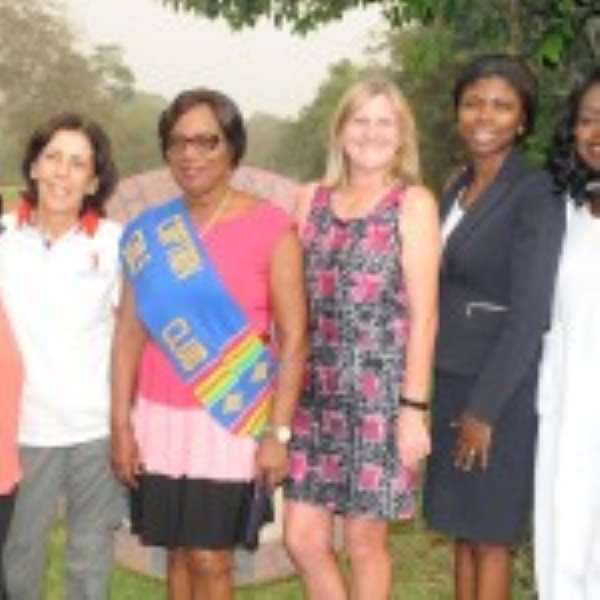 Peace Akwei (In Sash) with her executives

Barely a week into office as the lady captain of the Achimota Golf Club, Peace Akwei has vowed to roll out programs that will take the ladies' segment a notch higher.
To begin with, the avid golfer indicated in a post-elections interview that she has put measures in place to attract young ladies as well old members who have deserted the club.
She expressed delight for getting the nod to lead the women's wing of the country's premier Golf Club.
The newly-elected lady captain said "I don't have a manifesto to work with   but I will make sure to make the game more attractive as well as make the old members return because golf is our game, our love, our passion and it is our exercise."
"It is a good thing to have the confidence of a group to lead them, am happy the lady section has reposed such confidence in me. When we have a large membership base, it is good for the club and it will make it more vibrant."
"It is better to have more members than few. If people who love the game come here three or four times a week, it is not only good for the club, but for their well being as well," she said.
The other executive members are Ms Lynn Mitchell (Vice Captain), Ms Beatrice Vetch-Benpong (Secretary), Ms Abena Ntrakwah-Mensah (Treasurer) Ms Ragheda Khalil (Handicap Secretary) and Nana Bema-Takie (Competition Secretary).
Ms Peace Akwei took over from Clara Price and she would be in charge for a year.
By Kofi Owusu Aduonum