False Publication By The Media Against Konkombas Must Stop Now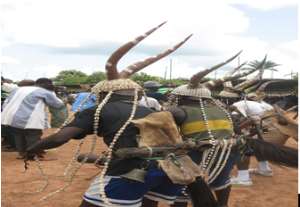 Most at times when I sit down to listen to some news items on the Ghanaian media I become so sad; The right people we expect to feed us with the happenings within the nation and the world as part of their professional duties are now becoming like the ordinary market men or women who escalate whatever they hears.
In fact some of the media personnel who are regional correspondence have become armed-chair researchers by sitting in their offices and report cases around Ghana without a bit of investigation.
Somewhere last year there was a news item by the TV3 Northern Regional correspondent, linking Bimbilla chieftaincy disputes with konkombas who were far from the clashes and when it was reacted by some konkomba youth, the man again added insults to the injury by saying that konkombas do not have any land in Ghana and so should not complain.
As if our complain about these negative reportage were heeded to, another serious one has been committed by the Starr fm's Northern Regional correspondent Mr.Iliasu Tanko on a headline: "Bunkrugu Riot: Death toll rises to three,35 houses Burnt", In his report, he pointed out that clashes is between two families; Jamong and the Jafog (Konkomba clans),this story was published by starrfmonline.com and re published on modernGhana.com.
The widely patronized national news portal: Ghanaweb.com also published this story as such without verifying the truth of it; they have thrown the dust into the eyes of the public to believe that Konkomba Clans are fighting.
I want to state categorically that the renewed clashes in Bunkrugu are not related to Konkombas in any way. Jamong and Jafog (Jafouk) families belong to Louk clan of Bimobas and not Konkombas. The fact that the names end in "bas" does not make the two ethnic groups is the same.
It will always be good if media personnel try to investigate news before publishing to avoid this verbatim all years whenever there is any clash in Northern Region; the hasty publication should be looked at or else you are painting Konkombas black.
Recurrent nature of this negative reportage is making us to believe that some of the media personnel just hate konkombas and so their intention is that there should always be clash in Northern region.
Konkombas once engaged in unavoidable fights in 1980s and 90s and since then we have always preach peace and it is the fact that not only konkomba ethnic group in Northern Region or Ghana fights but almost all ethnic groups fight and I cannot see why anytime there is an incidence of this nature the media is quick to mention konkombas, your hatred for konkombas will not reward you in anyway.
Running down from 1994 till today, media personnel have tried painting konkombas black anytime they report something on conflict in Northern region; we beg you to refrain from this negative reportage about Konkombas.
Ever since Konkombas and Nanumbas engaged in communal conflict in 1994 and 1996,Konkomba educated elites including Konkombas Students' Union (KONSU) have always embark on national congresses every year to all konkomba dominated areas across the country to educate every konkomba on the need for peaceful coexistence with their neighbors and this has reduced the number of communal conflicts involving Konkombas but as much as we try to stay off conflicts the media always tries sending us back there.
They have always turned deaf ears to our efforts by always using konkombas to shadow other ethnic groups who still engage in conflicts.
Conflicts retard development and progress and I implore every Ghanaian to avoid conflicts and preach peace.
Areas like Bimbilla,Yendi,Bawku,Nkunya,Alavanyo,Bunkruku,I beg you, see one another as brothers and be ready to pardon one another to give peace a change. For underdevelopment is staring at us, as we cannot enjoy any national cake, Bimbilla for example suffers from Bad road network,unresourced District Hospital etc.
I am a konkomba and hate to hear or see people fighting; so you have to update your minds and recognize Konkombas as peace loving ethnic group in Ghana.
Thank you all and peace be unto you.
Assalamu alaikum.