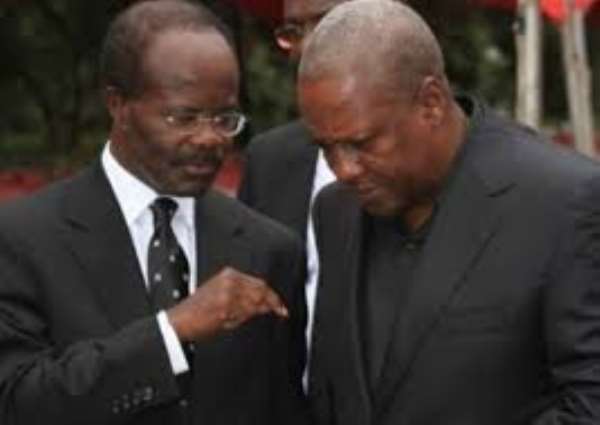 Dr. Ndoum and President Mahama
Dr Papa Kwesi Nduom, 2012 presidential candidate of the Progressive People's Party (PPP) has reacted to His Excellency President John Dramani Mahama's response to the Bono Ahafo Micro Finance Crisis in his recent press conference in Accra few days ago saying he wished the president didn't politicized the situation by blaming political opponents for insighting the people against government.
Speaking via hang out on ATV mid-day news, he allayed that there should not be blame games over the microfinance's way of duping the people of Bono Ahafo.
According to him the government rather has a responsibility of keeping the monies of the people of this country safe. He said since the Bank of Ghana gives these financial institutions license to operate, the government needs or has a responsibility in ensuring that the monies of the people are safe.
"Bank of Ghana should be able to deliver the same services to the universal banks in the country to these Micro Finance companies. But for the president to say the media's effort in discussing and addressing the issue is politically motivated by political opponents to make government look irresponsible and unpopular in the region is not something we should encourage. The media is allowed to address national issue and so do not expect the president to push blames of their activities to political opponents. I wished he never said that" Dr. Nduom stated.
He called on Bank of Ghana to be serious in their duties towards the microfinance institutions since the current situation is not only happening in Bono Ahafo but rather all over the country and as citizens work and always need financial institutions to save their monies, some of them end up falling victims to theses dubious micro finance institutions. He tasked them to be critical in their supervision once they give out license to these institutions just as they do to the Universal Banks like the GN Bank, GT Bank GCB among others.
He said the media should be encouraged to dig out more information which hither to would not be known to our leaders and not rather feel they doing something to favor somebody or a political party.
Watch Dr. Ndoum responding to president Mahama