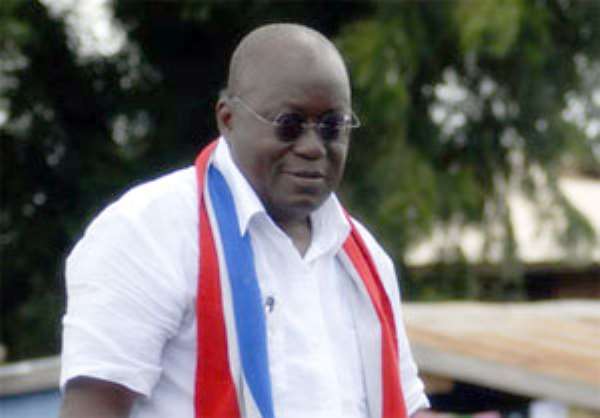 First of all, the fact that Seth Mifetu seems to have warped facts in a pernicious motive to denigrate honourable people, especially Nana Akufo-Addo, is a shame to the uncouth home that raised him. When you have a clueless, visionless, aimless and estranged leader as that erroneously sworn in as President of Ghana in 2013, it becomes utterly disgraceful to follow on blindly like a goaded goat to the slaughter house.
And that is what Seth Mifetu has done. The incontrovertible fact is that the writers of such adulterous articles usually hide their identities because their shame is more than what civil society can tolerate.
In fact, it should be stated that the contents of a letter can be understood from its heading. Nothing can be more horrendous than clapping stooges who can barely hide their jitters from fear of what legal redress the government of Nana Akufo-Addo will take against them, and their leaders. If Nana Akufo-Addo's lifestyle, Seth Mifetu claims, is unprincipled, then I wonder how he would refer to those of the NDC scamps in government, especially their leaders.
Nana cannot be tainted with sexual scandals yet John Mahama's name is in almost every single major one that Ghana has experienced. Nana Akufo-Addo could not be fingered in any financial loss to the state or embezzlement of funds, but John Mahama and his cronies featured in almost every scandal that Ghana has seen since 2009. So where is the indiscipline that Seth Mifetu is referring to? I mean this is really vexatious.
You see, Nana Akufo-Addo is like gold, the more he is struck the brighter he glows; and I will explain to you how.
First of all, wherever he goes, people's attentions automatically switch to him, even when President Mahama is present. It is for this reason that, recently, at the Amenfi West campaign, the latter had to escape the scene upon the arrival of the true Excellency, Nana Addo, to the funeral grounds of the corrupt late NDC MP. (Don't forget that the NPP bridged the vote differential by 8000 votes in the stronghold of the NDC….a sign of surprises to come). Internationally, his advice is sought on all fronts. He was honoured severally for bringing peace to Ghana post 2012 elections, which would have turned bloody had the shoes switched feet. His "all die be die" mantra has never meant anything but to say that he will continue the struggle for our collective freedom even if he has to lay down his life doing so. After all, death comes in different ways (all die be die). Then your criminally inclined lot picked up this word, as usual, and gave it many inconsistent meanings because only criminals can see crime where there is peace. Still he proved you all wrong by maintaining the peace after you stole the elections, and the court verdict.
Talking about the 2012 Presidential election, it was quite unfortunate that NDC had to rig it in collusion with an Israeli company. It was a shame to the touted democracy that had, since the advent of the NDC, been despicably violated and raped beyond respect. The NDC continues to transmogrify its non-excellence further into disrepute for failure to adhere to honesty, principles and ethics. But then, I have always posited that when there are miscreants as Seth Mifetu in that party's ranks, what honour can be bestowed upon it?
Seth Mifetu sought to question the allegiance of Nana Akufo-Addo to Ghana. Well, if having lived and worked in Europe for a while strips one off their allegiance to their country, then Seth really ought to hang his head in shame for supporting European football , wearing jeans, and eating Pizza. How many of his stuck-up family members live abroad? How many times has he travelled abroad? Does that strip him and them off their loyalty to Ghana? Or is he just a Togolese unleashing a barrage of unfounded allegations thinking he could get a "land cruiser" from "Chocolate Lordina" or John Mahama for his efforts?
But Seth Mifetu is really the pseudonym of an NDC cohort living abroad. And he is known!
I am mighty glad that there is someone as patriotic to Mother Ghana as Nana Akufo-Addo otherwise since the 2012 elections, Ghana would have been immersed in civil war. After all, it was the same NDC general secretary, Asideu Nketia, who led a mob to the EC, now-declared security Zone, chanting war songs and carrying machetes like foaming beasts dribbling sputum. They raved like rabid canines. So it goes to say that should the tables have turned in the 2012 elections, the NDC's rabies-infected personalities would have dribbled once again, turning Ghana into another Liberia. May GOD forbid! Conversely, when Ghanaians were disenfranchised at the polls, Nana Akufo-Addo ordered his supporters to go home and pray because the NPP was going to seek redress via the constitutional means. What was wrong with exercising the mandate stipulated in the constitution?
Then Seth Mifetu and his likes drabble in their filth in a futile attempt to slur this Godly Nana Addo. Seth Mifetu, indecorous Omane Boamah, and their incompetent lot are doing everything in their power to deny Ghana the change that will see the regurgitation of the nation's money that was squandered by their master beasts: Asongtaba; woyome; ameri; the alleged 170 million US Dollars that were stashed away in John and Lordina Mahama's account in Switzerland; Smarty's rebranding; etc.
The over-priced projects like the 290 million Dollar kejetia market which actual cost is 9 million US Dollars; the Kasoa interchange that was inflated by over 150 million US Dollars; Amandi's over 3 billion Dollar inflated contracts; the circle interchange inflated contracts; the road ramps that cost GHs 3,000 each, but invoiced the nation at a whopping GHs 40,000; the Kumasi runway that cost $23 million USD as against a proposed airport for the Volta Region that would cost $25 million USD (infrastructure, terminals, ramps, taxi and run ways etc); the acquisition of lands by force; the procurement of Chinese buses that cost about 40 thousand US Dollars each, but were invoiced the nation at 200 thousand US Dollars each; the branding of these buses at a befuddling cost of GHs 3.6 million; the 98 million dollar contract for the same person involved in the rebranding scandal; the excessive borrowing that has piled a debt stock of approximately 40 billion US Dollars as against 8 billion US Dollars that John Mahama and his cronies came to meet.
Oh lest I miss this important point about Afoko and Kwabena Agyapong. The NDC has sacked more members from its ranks and files than any party ever had in this whole world, not out of applying their constitution, but because of belligerence. The NPP suspended a few of its members due to infractions in behaviour that conflicted with the constitution of the Party. So what is the NDC's worry? Seth Mifetu is a criminal, really. He has forgotten the scourge of his incompetent President. Apparently, the NDC is nauseated by its own stench of filth that it cannot find its bearing to attack the reason for its incompetence and curse. 3y3 as3m o!
All that, yet Ghanaians are waiting patiently for elections 2016 to kick the ass of John Mahama out of Power because they do not want trouble. When honest and incorruptible people like Nana Akufo-Addo speak, Seth Mifetu, his president and all the goons become hysterical because they know that their time of reckoning is nigh. Oh, and one piece of advice for you Seth Mifetu, you seriously ought to learn the history of your motherland instead of hiding abroad; or are you Ghanaian? Nasty boy…Mtcheeew
#StillNanabeba #NanaAkufoAddoIsIncorruptible #IAmForChange