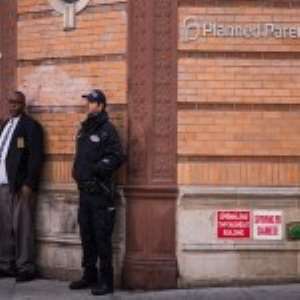 A Washington man who allegedly threatened executives of a California biotech company that processed fetal tissue from Planned Parenthood faces prosecution in one of the rarest sorts of criminal cases – for violence threatened online.
The indictment stated that Scott A Orton, 57, had a record of online menacing of local journalists, city council members, fellow commenters and even FBI agents, dating back to at least 2009.
The rare prosecution comes in the wake of a mass shooting in a Colorado Springs Planned Parenthood clinic. Orton was arrested by federal agents in December for making an interstate threat to kill an executive of StemExpress.
The California firm was thrust into the spotlight when anti-abortion activists attacked the company's fetal tissue procurement practices and released highly edited, secretly filmed videos from inside Planned Parenthood. Orton's alleged comments threatened to hang a StemExpress executive with piano wire, on the Fox News website.
Two legal, registered guns were seized from Orton's home just days before three people were killed and nine injured by a shooter at a Colorado Springs Planned Parenthood clinic .
"Stop the death of innocents. Kill the killers," Orton allegedly wrote in July, in a string of violent comments below a story on undercover Planned Parenthood videos. The comments offered cash to kill an unnamed company executive. "The [officer] of StemExpress is a death profiteer. The [officer] of StemExpress should be hung by the neck using piano wire and propped up on the lawn in front of the building with a note attached."
Orton's comments on the website appear eerily similar to those of Robert Lewis Dear , who is accused of having shot and killed three people at the Colorado Springs Planned Parenthood affiliate on 27 November. In his first public statements, Dear yelled out in court to "protect babies", and "Kill the babies – that's what Planned Parenthood does." "JoseyWhales," allegedly Orton's nom de plum, presumably refers to the 1976 Clint Eastwood movie The Outlaw Josey Wales, whose plot focuses on a man who joins a Confederate guerrilla army during the civil war.
The comments came to the attention of NAF, and the organization reported the comments to the FBI, which launched an investigation. NAF considers the outbreak of violent speech so serious it contracted a security firm to monitor online threats 24 hours a day.
Abortion providers have said for months that they've experienced increased threats online, pointing to videos released by anti-abortion activists as the beginning of the uptick. Often, those threats go unpublicized because members of the reproductive health community are wary to give a wider audience to such speech.
"[National Abortion Federation] was reporting an unprecedented escalation in threats, hate speech and calls to action against abortion providers," said Vicki Saporta, the organization's president. "The post from 'Joseywhales' was some of the most chilling that we uncovered."
Planned Parenthood president Cecile Richards has said that verbal attacks based on the videos "created the kind of climate that we are now seeing that leads to the harassment of doctors and violence at clinics".
According to Orton's indictment, he told agents he threatened StemExpress executives because he wanted people to "wake up".
Orton, however, appears to have been a thorn in the side of locals in Puyallup, Washington for years. The threat against StemExpress, unlike many of his previous comments, crossed state lines and thus fell under federal law.
Orton's alleged pattern of threatening emails go back to at least 2009, according to his indictment, when he allegedly emailed the city council of Puyallup.
Agents believe Orton sent a threatening email to the Puyallup city council in 2009 which said: "I am coming for you, creeps," a message Orton later described as political speech.
Puyallup police forced Orton to hand-write an apology to the council members. He characterized the message as "political" speech, and said: "I swear on oath I will never do any more than vote against anyone."
He commented and emailed violent threats to journalists and the circulation editor of the Tacoma News Tribune for years, according to a staff member from the paper who asked not to be identified for fear of future harassment.
At one point, "TheOutlawJoseyWhales" emailed a prominent employee of the newspaper and told him, "If I see your delivery person come down my street again, I will put a bullet through your windshield."
"I called the Puyallup police and they said, 'We can't do anything,'" said the Tacoma News Tribune representative.
"It's not generic 'I'm angry' sort of things, which in any business you'll get periodically, but it's just the explicit, threatening nature of it," said a representative of the Tacoma News Tribune, who did not want to use his name because he didn't want to receive more hate mail from Orton.
After years of intimidating threats posted in the news website's comments section, the newspaper broke down and revoked his commenting privileges, pulling 1,400 abusive comments from its articles in 2013.
Nevertheless, at least at the Tacoma News Tribune, Orton was considered "All hat and no cattle."
Prosecution of online comments is exceedingly rare. Nationwide, only about 30 such cases are brought each year, according to online hate speech expert and University of Maryland law professor Danielle Citron.
"It is quite rare indeed," Citron said via email about such cases. "When it comes to the enforcement of federal terroristic threat law, there are on average 30 cases brought a year. Of course, that does not count state threat prosecutions (no systematic collection of statistics there). But my work suggests it is quite low."
"There are several intersecting reasons why threat laws are under enforced," said Citon, pointing to "social attitudes" in particular.
"Victims are told that they should just ignore the threats, it is just kids being kids. Law enforcement also often receives little to no training on threat and stalking laws. Also, while law enforcement is used to ordinary street crimes, they often don't know how to go about investigating online crimes," she said.
Orton's case is also rare because often the results of FBI investigations into harassment directed at reproductive health clinics is unknown.
The secrecy around such harassment extends to warnings the FBI issues to local police. In an intelligence bulletin sent to local police departments across the country, the FBI detailed nine instances of harassment of abortion clinic staff, including in Denver, according to reports.
In September, the agency bulletin said, "It is likely criminal or suspicious incidents will continue to be directed against reproductive health care providers, their staff and facilities," CBS News reported. The harassment was "consistent with the actions of lone offenders using tactics of arsons and threats all of which are typical of the pro-life extremist movement". A local NBC affiliate in Denver reported that an abortion clinic doctor in the city was the subject of one of the nine cases detailed in the intelligence report.
That intelligence bulletin, however, was not made public. The FBI refused to release the report, saying it is not for public dissemination. Colorado Springs police said the FBI would need to release it because it was the agency's "intellectual property". Denver police said they never received that bulletin, despite the bulletin's focus on a Denver doctor.
Months before Orton allegedly threatened StemExpress executives, he is believed to have threatened fellow commenters. He even threatened the FBI agent who was investigating him.
"Hey Special Agent [David] Rubel of the FBI. … There's a troll here giving out your identity online. I can buy your address from the Chinese now. How do you like that?" he allegedly commented on a Fox News story.
Fox Nation appears to have cooperated with federal agents throughout the investigation, providing an IP address that was registered to Orton's Comcast account, and personal information he used to register on the website's commenting platform.
Though the government recommended Orton be held on bond, a California federal court judge allowed him to leave jail on unsecured release, according to the Sacramento Bee. He is scheduled to make his next appearance on 29 December.