Minority Leader Osei Kyei-Mensah-Bonsu has pooh-poohed on government's financial statement for 2016, pointing to an uninspiring direction for a struggling economy.
Finance Minister Seth Terkper who presented the 2016 budget statement Friday to Parliament enumerated plans to consolidate macro-economic gains and also revive Ghana's economy which some economists suggest is in coma.
But the Minority Leader is not convinced the 2016 statement paints any hope for the nation, indicating that its content is a true reflection of President Mahama's catchphrase: "I have a dead goat syndrome".
"This is a dead goat budget," he told his colleague legislators when he seconded the motion to adjourn sitting after the Minister presented the budget.
Mr. Kyei-Mensah-Bonsu further explained that the budget is "full of perspiration but very little inspiration".
In his view, what appeared to be government's prudent plans to build the economy next year is nothing but a "trust betrayed budget".
In unison, Members of Parliament on the Minority side overwhelmingly supported their leader's description of the budget, brandishing placards boldly written, "Dead Goat Budget".
The 2016 Budget is themed: "Consolidating Progress towards a Brighter Medium Term".
The consolidation agenda hinges on Government's commitment to promoting fiscal discipline based on enhanced domestic revenue mobilization, prudent public expenditure management, improved debt management and the implementation of reforms in key areas of the economy, the Finance Minister explained.
SOME KEY HIGHLIGHTS OF THE 2016 BUDGET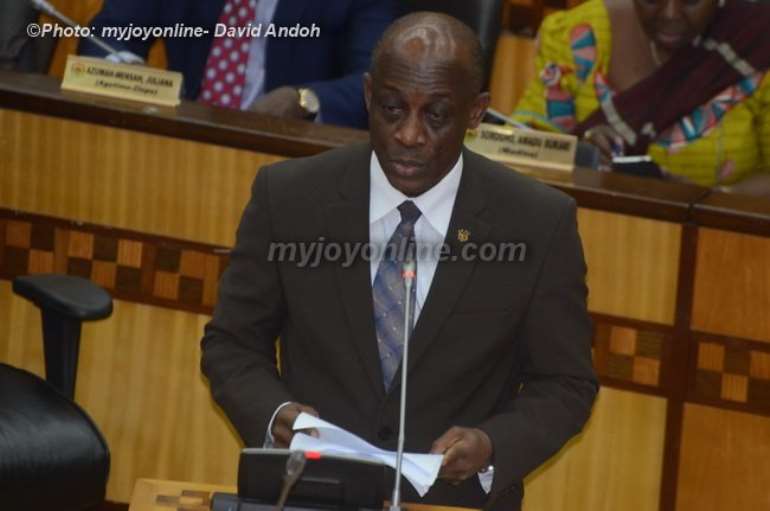 Finance Minister Seth Terkper​
PUBLIC FINANCIAL MANAGEMENT REFORMS
The PFM strategy was developed and approved by Cabinet, to further enhance the efficiency, transparency and accountability of the Public Financial Management Systems.
A new PFM Bill is being drafted to be passed into law in 2016 to provide a stronger regime for budget planning and formulation, execution and monitoring.
FISCAL POLICY
Create additional fiscal space for sustainable budget expenditures
and enhance efficiency in tax administration, compliance and increase tax revenue.
TAX POLICY AND ADMINISTRATION
Rollout fully the excise tax stamp project.
Implement measures to address revenue leakages
Introduce policies to rationalise and streamline the exemption policy.
Re-imposition of Excise duty on Cider beer
Review of Income Tax and VAT Threshold Bands.
NON-TAX REVENUE
Wean-off Commissions, Agencies and Authorities into Companies including Driver and
Vehicle Licensing Authority (DVLA); Environmental Protection Agency (EPA); and Energy Commission (EC).
EXPENDITURE MANAGEMENT INITIATIVES
Manage the impact of the compensation bill through payroll management
Strengthen the cash management system to include the B-Tracking, e-Travel Card, eFuel
Card, and the Treasury Single Account.
SUSTAINABLE DEBT MANAGEMENT
Progress is being made to ensure loan contracted with on-lending agreements by
SOEs are recovered. Strengthen public debt management and operations.
Limit the use of sovereign guarantees and encourage ring-fencing.
INFRASTRUCTURE DEVELOPMENT INITIATIVES
Develop a draft National Infrastructure Plan
Adoption of a new approach through Public Private Partnerships for infrastructure· development Ghana Infrastructure Investment Fund (GIIF)
OTHER INITIATIVES
Job Creation/ Youth Employment Initiatives: 100,000 youth will be engaged under the
Community Improvement Programme. Green House Project: train farmers, youth, women and agricultural graduates in commercial
and modern greenhouse vegetable production in the country