NPP International Conference 2015 In Holland Comes Off 15th October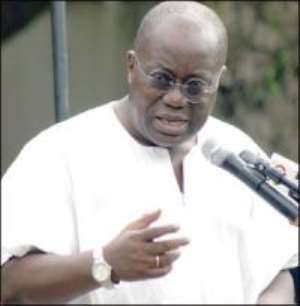 The fourth International Conference of the New Patriotic Party kick starts today, the 15th of October 2015, in Amsterdam, The Netherlands. The conference seeks to provide an opportunity for NPP national executives and its external branches to meet and interact with each other while promoting the need for its members to come together in supporting activities that will promote a better Ghana. The conference also seeks to 'Provide a platform for the national leadership to interact with the diaspora and its leadership', 'Discuss the diaspora's capacity and channels to support the 2016 election' and 'Provide a platform for the diaspora to share technical and human resource support to future NPP government policies'.
Delegates from all over the world have been invited to this important events. Some of delegates from Ghana are, Nana Akufo Addo, Paul Afoko, Kwabena Agyepong, John Boadu, Otiko Djaba, Hon. Osei Kyei Mensah Bonsu, Hon. Adwoa Sarfo, Hon. Shirley Ayorkor Botwe, Hon. Kwabena Kokofu and Charles Owiredu.
Some of the confirmed delegates from external branches include, Nana Agyare Kodie (Chairman NPP Belgium), Michael Ansah (Chairman NPP UK), Rev. Alex Acheampong (Chairman NPP Germany), Owusu-Kaning (Chairman NPP France), Owusu-Boateng (Chairman NPP Italy), Yaw Frimpong (Chairman NPP Norway), Alf Agyemang (Vice-Chairman NPP Ireland), Fred Asamoah (Vice-Chairman USA). Dwamenah Yeboah (former Chairman of NPP Germany), Mathew Kyeremeh (former Secretary NPP UK).
The Conference is scheduled for 4 days and starts with the arrival of delegates on Thursday 15th October. The main conference days are Friday 16th and Saturday 17th October. The conference will end with a Rally on Saturday evening in Amsterdam, which is expected to attract over 1000 Ghanaians living in the Netherlands.
Delegates are expected to depart on Sunday 18th October.
The conference is being held at the NH Hotel Amsterdam Schiphol Airport. The address is Kruisweg 495, 2132NA Hoofddorp, Amsterdam (The Netherlands).
The Rally will be held at the SDA/Methodist Church Premises in Amsterdam. The address is Kortsvoort 73, 1104 NA, Amsterdam.
During this Conference, the flag bearer, Nana Akufo Addo will give an open speech and send his winning message of the 2016 general election across the globe. Also the general secretary of the NPP, Mr. Kwabena Agyepong will give an update on the development of the party at its various quarters. There will as well be an open discussion on External branches activities and mobilization.
Delegates from all over the world have started arriving for the most important event of the New Patriotic Party outside of Ghana.