Hundreds Of Children Screened In Tema Through The Kalyppo Kares Program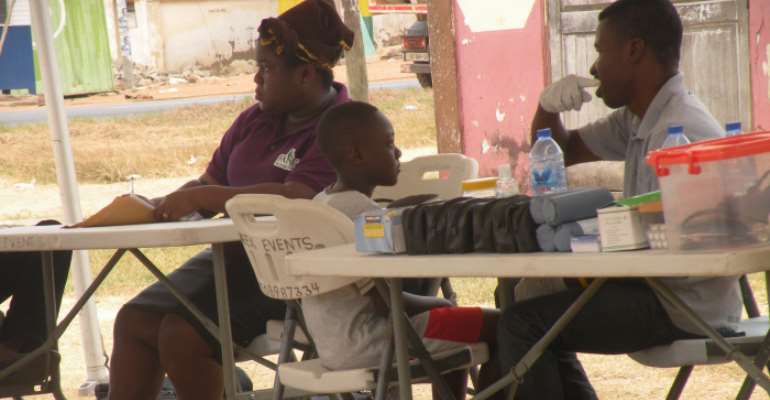 The Kalyppo Kares project of the Aqua Fresh Limited came to an end last Saturday with over two hundred children screened.
This program saw kids being screened by professional nurses and also being sensitized on various health issues. The Kalyppo Kares for Kids program have already taken place in Madina and Kwabenya and it was the turn of children from Jamestown.
According to the project manager of the "Kalyppo Kares" project, Mr Chris Nana Ampadu, parents didn't really pay attention to their kids and most children had different health issues which are dangerous for them growing up. He further on urged parents to take active part in their children's health needs. He applauded the work of Aqua Fresh Limited for funding this wonderful initiative to combat health problems among children in the various areas. "A total of over two thousand children were screened in the whole four week project", he added. The CEO of Sangy Nursing Services, Mrs Sara Nana Yeboah stressed that, poor personal and oral hygiene was a major problem among the kids. According to her, this is as a result of the negligence by the parents. She was excited about the project and suggested Kalyppo increase the localities that they will be going and help the future of the kids through proper health practices.
The Free Community Health Screening in Tema was the final part of the four weeks health screening in Madina, Kwabenya and Jamestown from 15th August to 5th September, 2015. This also came with some fun activities including music and dance competition, lime and spoon race, face painting as well as bouncy castles. There were also souvenirs given to winners of the dance and music competition.
These children took turns to enjoy themselves after the screening and health education. Kalyppo Kares for Kids seeks to help in the well-being of their target groups to keep them fit always through their preventive health program.