GIPC Opens Nationwide Investment Outreach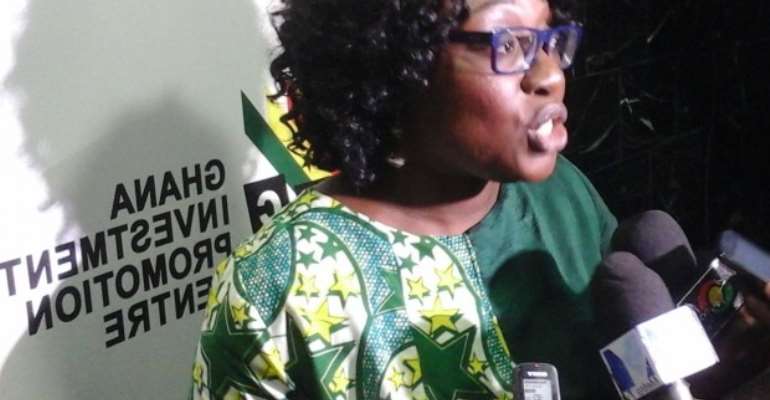 Mawuena Trebarh, CEO of GIPC
The Ghana Investment Promotion Centre (GIPC) will from September 10, 2015 embark on this year's edition of the Nationwide Investment Outreach.
The Nationwide Investment Outreach programme dubbed, 'Regional Sensitization Tour', is designed to meet the local content requirement of GIPC's investment promotion mandate.
In 2013, a total of 115 private sector projects were sourced profiled and promoted.
Out of the 115 projects, 74 were verified projects (i.e. existing businesses) while the remaining 41 were projects concepts (ideas not yet actualized).
The event, in 2014, realized a total of 128 projects spread across agriculture and agro processing, manufacturing, services, tourism, construction and infrastructure, oil and mining sectors.
That represented an increase of 11.3 percent over the previous year's projects.
Eighty of the projects were verified projects (existing business) while the remaining 48 constituted projects concepts (i.e. ideas not yet actualized).
According to Mawuena Trebarh, Chief Executive Officer (CEO) of GIPC, the programme provided a platform to update existing information, identify and collate domestic data on various new investment projects and opportunities in all 10 regions of the country for presentation to the investor community.
Its primary objective is to foster partnerships and other relevant interventions for prosperity of the Ghanaian business community.
The workshops will bring together ministers, regional directors, District and Municipal Chief Executives, regional economists and trade officers, regional planners, finance officers, members of various business associations, the media and private entrepreneurs to identify and profile bankable projects in the various regions.
On this year's projects, she said there have been over 200 enquiry receipts from prospecting investors, who have showed interest in the projects we have indentified, verified and packaged.
A total of four projects have realized partnerships and funding, and a total of 41 projects have been linked with prospective investors for various forms of collaboration.
By Samuel Boadi