John Mahama's Challenger Is 'Mad'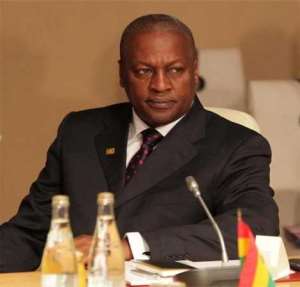 General Secretary of the ruling National Democratic Congress (NDC) Johnson Asiedu Nketia has described the only contender to President John Mahama in the party's upcoming presidential primaries as a demented man who needs medical attention.
According to General Mosquito, as Nketia is popularly called, George Boateng's claim that he has already picked forms for the contest is a lie which must be treated with contempt.
"He has not picked any form. I heard he has been in my office but I told my clerk that I am currently not in Accra. It is not true that anybody has picked a nomination form for the Presidential primary.
"That man should be sent to the Pantang Hospital because he is suffering. He has never called me as he claims," Mosquito told Kasapa FM's Fifi Banson in an interview Tuesday.
But in a rebuttal, Boateng said the NDC general secretary rather needs help.
"When I was going to pick the forms, I did not go to Malata constituency I went to the party headquarters with journalists.
"Asiedu Nketia should be the one to be sent to Pantang Hospital and not me," he fumed.
The ruling party will hold its presidential and parliamentary primaries on November 7.