Elect Competent Assembly Members In The District Assembly Elections - Patrick Sarpong Tells Ghanaians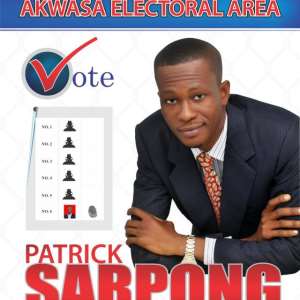 Patrick Sarpong, aspiring assembly member for Akwasa electoral area is appealing to the general public and especially the people of Akwasa electoral area ( Sampa valley, Old barrier,Block factory, Red top, New Bortianor ,Broadcasting etc) to chose a competent candidate.
According to him out of the six aspirants, each has his or her own capabilities and should not take the advantage of political affiliation to take the people for granted.
"The electorates deserves the best and not the worse as candidates always neglect the people after they win the contest. Some have made elections unattractive to electorates and hence the people are no longer interested in voting in this country" he said.
He averred that the use of abusive language on the people after a candidate winning has discourage majority of the people from voting.
He, is therefore, appealing to Ghanaians to take full participation in electing candidates not based on political affiliation but on Conduct and capabilities .