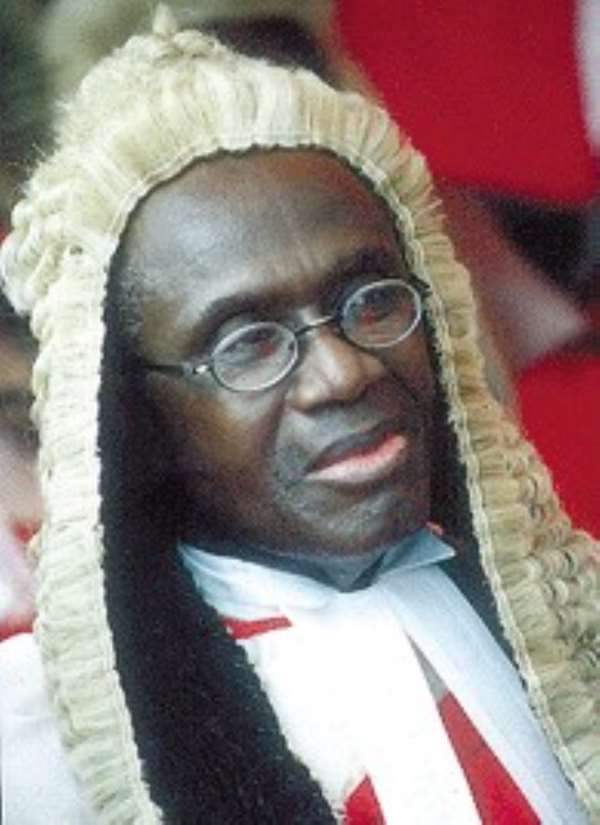 Dr Sepa Yankey Reveals
Dr. George Sepa Yankey has revealed in an interview on Joy FM's Super Morning show that weeks before Justice Afreh passed his "infamous" judgment that sent him (Yankey) Kwame Peprah and Ibrahim Adam to jail, he (Yankey) was told by a man of God that Justice Afreh would perish within a year if he persisted on jailing innocent people to satisfy his political masters.
Dr Yankey said that the pastor who told him this explained to him that he received the revelation while praying about the case. In the revelation, the pastor was told that Justice Afreh knew beyond every doubt that all the accused were innocent but he was under excruciating political pressure to pronounce them guilty. According to Dr Yankey, the pastor declared to him that divine wrath will come upon the judge within a period of 12 months if he fails to follow his conscience and do what he knew to be the truth.
Dr Yankey explained that at the time the man of God told him this, he simply took note of it and did not particularly put a high premium on it. It was when the news reached him in Prison that Justice Afreh had died, that it hit him that everything that he was told by the pastor was accurate.
Touching on the Quality Grain politically motivated trial, Dr. Yankey recalled that at the end of the prosecution's case during the preliminary hearing, Justice Afreh gave a broad hint that the prosecution had not provided sufficient basis to warrant the accused persons to open their defence. "At the time," Dr Yankey stated, "the DPP was begging Justice Afreh to at least let us explain our roles in the matter. Mind you, not to defend but to explain our roles in the matter."
"Based on Justice Afreh's hint, our lawyers made a submission of no case, and Justice Afreh promised that he would give a lengthy detailed ruling on the matter on the next adjourned date, which was to be eight weeks later," Dr. Yankey recalled.
He recalled that on the D-day, we were in court when Justice Afreh arrived. However when the court was scheduled to start sitting, Justice Afreh was nowhere to be found, and when they enquired about his whereabouts, they learnt that a car had been sent to whisk him to the Castle.
According to Dr. Yankey, Justice Afreh returned more than three hours later, looking haggard and absolutely forlorn. "At that point our lawyers told us to be ready for the worst," Dr Yankey declared.
Dr Yankey stated that instead of the lengthy ruling he had promised earlier, they were truly surprised to find the ruling he had in hand was handwritten in red ink, and not even typed; and it was about a page and a half. "I was sitting in the front row so I saw everything," Dr. Yankey asserted. At that point, he said all of them knew that they would be jailed at all cost.
According to Dr Yankey, the Castle manipulation that eventually landed him into jail began from the very onset of the coming into power of the Kufuor regime. Narrating the sequence of events, Dr. Yankey, recalled how his appointment to the ECOWAS Bank was endorsed by NDC government. But less than a month after Mr. Kufuor assumed office, while he was getting ready to assume his new responsibilities at the ECOWAS Bank, he received a call from Mr. Kufuor's (Hack Man), Hackman Owusu Agyeman, who told him that the Kufuor administration was reconsidering all appointments made by the Rawlings government, therefore he (Yankey) should not proceed to take the appointment until he receives an 'all clear' message from the Kufuor administration.
Dr. Yankey said his initial reaction was to go along with the directive, except that at the tail end of his statement, the "Hack man" issued the following threat: "As a brother, I would advise you to give up the job, else we will embarrass you".
This threat, according to Dr. Yankey, infuriated him so much that he decided to insist on his rights. To this end he made it clear that he was not giving up the job. This was the beginning of his woes with the vicious and wicked Kufuor regime.
Subsequently, he recalled, the then Attorney General, Nana Akuffo Addo, held a press conference at which he (Attorney-General) stated that Dr. Yankey was the person who released the funds to the Quality Grain Company, which allegation was clearly proven to be false later at the trial.
He explained that he had to go to court in Nigeria to obtain a ruling against the moves being made by the Ghana government to have him removed from the Ecowas Bank. He alleged that when he started working at the Ecowas Bank in Lome, Togo, Mr. Hackman Owusu Agyemang informed the then Togolese Prime Minister, that he (Dr. Yankey) is so close to President Rawlings that his presence in Togo is not good for the security of the Togolese government.
Dr. Yankey said after he left the Ecowas Bank, he won a two hundred thousand
dollar ($200,000.00) contract to do some work for an international organisation based in Geneva. However, in March 2002, long before judgement in the Quality Grain Trial was given, Ghana's Ambassador to Switzerland, Fritz Opoku, contacted the company and urged them not to sign the contract with him (Dr. Yankey) because he would be jailed. Owing to this the Geneva based organization did not sign the contract with him.
At the same time, Dr Yankey revealed that sources within the Ghana embassy in the US had informed his son in the US, that Hack Man then foreign Minister during a visit had boasted that his government would do everything possible to jail Dr Yankey to show him "where power lies."
In spite of all of the wicked and vicious treatment he had endured in the hands of Mr Kufuor and his gang of sadistic Hack Men, Dr. Sepa Yankey bears no malice to anybody. He explains that the positive side to all that has happened to him is the way he had become much closer to God and very spiritual. He emphatically declared that he would use all energy at his disposal to urge the NDC not to go on a mission of vengeance against the NPP when the party comes back to power.