Nigeria Fires Off The Sparks: A Sitting African President Defeated In A Decent Election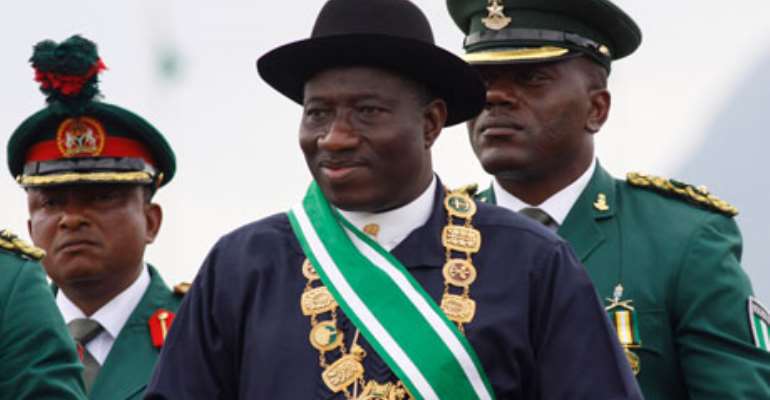 In my last article, I alluded to the fact that Ghana and Nigeria have been shadowing each other in 'firsts' on the continent, for the past fifty-eight years. Between the 28th and 29th of March 2015, Nigeria clocked another spectacular 'first.' Not only did the country rid itself of the ineffective and incompetent Goodluck Jonathan; it also conducted possibly, the most genuine and transparent national election the continent has ever seen since Black Africa's independence began nearly sixty years ago! The question is, will Ghana in particular, and Africa in general,follow Nigeria's historical example?
The enormity of the Nigerian achievement becomes even more significant when it is viewed in terms of the complexity of the logistics involved. Ballot papers had to be printed, collated, packed and shipped from the United Kingdom for 68,883,476 eligible voters spread over 155,000 polling stations in 36 states. There were 700,000 polling officials and 14,000 political party and independent candidate agents.
According to Professor AttahiruJega, the Chairman of Nigeria's Independent National Election Commission (INEC), the total staff strength requirement for the conduct of the election was equal to three times the entire personnel of the combined armed forces of the whole of West Africa. That did not include the fact that a sizeable proportion of the Nigerian security services had to be deployed to manage the threat posed by the Arab puppet terrorist group, Boko Haram.
What Professor Jega has done for Africa cannot be put in monetary terms, but generations unborn will be ever so grateful to him, for he has demystified national elections in Africa. The nonsense of running to the mostly compromised courts or taking to the bush and returning with cudgels and guns to disturb the peace has been torn to shreds for ever!
In terms of complexity and logistic requirements, national elections in nearly every other country on the continent only rank alongside Ghanaian University Students' Representative Council (SRC) elections of the 1970s. Therefore no electoral commission anywhere in Africa must be allowed from now, to organise any mickey-mouse election (and that is what they all are, compared with Nigeria's) that ends in disaffection, violence or threat of violence.
Nigeria has shown that even in darkest Africa, we can run near flawless, honest and impartial elections. From April 2015 any electoral commissioner who supervises a dishonest election anywhere on the continent must be arrested immediately and prosecuted. We have had enough bad press of African elections. Well done Professor Jega for covering yourself in glory, and by extension, Chief Goodluck Jonathan, for equally resourcing INEC!
Ghana's Election 2016
Although Ghana's next presidential and parliamentary elections are nearly twenty months away, I am already having nightmares about what might happen before, during and after the elections. The cause of my incubuses is the fact that while every ten year old who saw just the court drama of the 2012 Election Petition and Justice Atuguba's rendition of the court's judgementknows that the said election was totally flawed, no meaningful attempt has been made by Ghana's Electoral Commission to make the comprehensive changes that are clearly required for credible elections in 2016.
To start with, Ghana's electoral register is not fit for purpose. It is over-bloated, full of errors and a total disgrace for a country that prides itself as the trailblazer in Black Emancipation and Black Consciousness.
Senegal and Botswana have the longest history of democratic elections in Africa, south of the Sahara, yet Senegal registers a mere 39.4% of its eligible voters, while Botswana registers21.4%. Nigeria, the new sensation of African elections, registers 38.8% of its eligible voters, while South Africa with just 28.9% of its population under age 14, registers 47.4% of its eligible voters (2014 figures). Ghana with a population of 38.6% under the age of 14 has an unbelievable 63% of eligible voters on its current electoral register.
Dysfunctional state institutions
There are some really incompetent and inept ministers, technocrats and other appointees in Ghanaian institutions like Education, Statistical Services, Environmental Protection, Health and the Electoral Commission who try so hard to cover their shortcomings with unbelievable arrogance. The chaos in nearly every aspect of life in Ghana today can be attributed to the actions and inactions of state institutions whose heads are lavishly remunerated by the hapless taxpayer.
I still for the life of me cannot understand why the bosses of the Ghana Electoral Commission, for instance, have not been arrested and charged for causing the huge financial loss to the Ghanaian taxpayer as a result of the incredible stupidity that led to the organisation being schooled in court by a fisherman and his astute lawyer! Why were very simple laid-down procedures for the conduct of electionsnot followed for the now comatose District Council Elections of 2015?
It is those kinds of heads of institutions that I see in my nightmares leading Ghana into the abyss. Professor Jega has shown the way and we must not allow such individuals to continue to portray Africa as a basket case anymore.
Secondly, the incredible level of illiteracy that was displayed on the recording sheets of the 2012 General Elections, as exhibited by the opposition New Patriotic Party's petitioners, has not been addressed. Nigeria's National Youth Service Corps was praised by international observers, for the amazing patriotism and sheer efficiency of its volunteers in the recent presidential elections. It is almost certain that some elements of national youth organisations like National Youth Employment Programme, National Service Scheme and National Disaster Management Organisation were involved in the outrageous data entry and analysis that were displayed on those important national documents.
Suggestion
My suggestion is that no Ghanaian with less than the equivalent of A Level Mathematics or Post-Secondary 'A' certificate should ever be allowed anywhere near a polling station in Ghana again, as Electoral Officer. It now looks like Election 2016 is a make-or-break affair for Ghana as a sovereign nation. As a result of my seven great-great-great-grand uncles being so adventurous and enterprising in the 'procreation department', I have relations in nearly every one of the ten regions of Ghana.
The reports I am receiving on the state of Ghana and the undercurrent emotions towards Election 2016 contribute in no small measure to my nightmares.That is why instead of the usual Ghanaian practice of whining and protesting to spouses and arguing with friends for hours onend,I have decided to do something about it.
Did I hear Nana Akufo-Addo say, 'The next Electoral Commissioner will declare me winner?' No sir, he or she won't, at least unless you or everyone else, apart from John Mahama, who is interested in running for that august office does something about the national voters' register! Following the now legendary Nigerian presidential elections, I spent some time brushing up on the Microsoft Access course that I took a millennium ago.
I subsequently generated a bogus database like Ghana's voters' register and set out to clean it up. After several hours of practice, I am now convinced I can do one constituency in two hours. It might be faster with Sequel or some other more sophisticated database. But Access is simple(although with the current state of the Computer Science Department at the University of Ghana, I am not too sure it will be that simple in Ghana) and there is even a free version on 'Open Office'.
The clean-up challenge
I am throwing a challenge to the opposition party leaders in Ghana to come together and commission an IT company or NGO to select ten constituencies at random, one from each region, to take up the task of proving that between a quarter and half of Ghana's current electoral register is made up of ghost names. They will then drag the Electoral Commission to the courts to force it to do the clean-up job. I will also call on IMANI Ghana to take interest in the exercise as its corporate civic duty to the people of Ghana. Will any of the foreign embassies in Ghana assist? It will definitely be cheaper than shipping dried milk powder or yellow corn or touch wood, taking homeless Ghanaian refugees into their home country, as it is currently being done for some unfortunate Syrians!
Dear political party leaders, I am serving notice: If in exactly eight weeks from today I do not see any movement on your part towards the clean-up of the electoral register, I shall come after you in the 'Dum Dum.' What I may unearth about some of you may not be pretty!
To Honourable Nana Akufo-Addo: My friend Angelina K Morrison wrote a piece about making you president in 2016. I do not know how seriously you took Angelina's piece, but my piece today is another friendly wake-up call for you in particular. Sir, the fact that in 2012 candidate John Mahama gained 450,000 more votes than all the NDC parliamentary votes put together was no accident at all. You probably mean well for Ghana, but unless you take these suggestions seriously your dream and those of your seemingly teeming supporters will be dashed again.
You see, all the structures that led you and Jake to the Supreme Court are still pretty much alive and kicking. They served candidate Mahama well in 2012 and so there is no earthly reason why he will want them disturbed unless those in charge are compelled to do so.
To everyone else who has interest in this issue, I have discarded my skirts and gone into jeans shorts. I am prepared to slug it out for as long and as hard as necessary. I do not have enough resources to spirit my numerous clansmen and women out of Ghana. This is the least I can do for the Motherland.
I will surely be back with my beaded gourd; and that is a promise!
NaanaEkuaEyaaba has an overarching interest in the development of the African continent and Black issues in general. Having travelled extensively through Africa, the Black communities of the East Coast of the United States as well as London and Leeds (United Kingdom), she enjoys reading, and writes when she is irritated, and edits when she is calm. You can email her at [email protected] , or read her blog at https://naanaekuaeyaaba.wordpress.com/