Melcom Group outdoors Brand Ambassador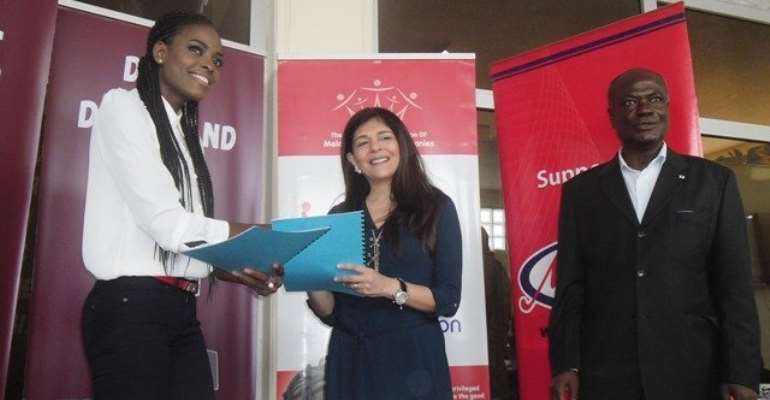 Accra, April 2, GNA - The Melcom Group of Companies has outdoored Ms Victoria Michaels as a Brand Ambassador to promote the companies' products and services.
'I am absolutely thrilled on my appointment as a Brand Ambassador for Ghana's biggest and Number One retail business. I will leverage on my growing brand appeal and Melcom's consistent legacy of unforgettable shopping experience to ensure that we remain where Ghana shops,' an elated Ms Michaels stated during her inauguration at Melcom Plus in Accra.
'My partnership with Melcom is a natural mix, as a top model whose versatility and talents touches many positive areas. I can identify with this great brand and its multiple range of products and services,' she added.
Ms Michaels said: 'I am connected to Melcom's ideal of getting varieties with one stop shopping experience. Amongst the many things I share in common with Melcom includes - constituency, resilience, brand leadership, innovation to mention just a few.'
She said the Group is committed to do more as a brand in the coming years; declaring that they would continue to change the dynamics of shopping through their various innovative discount packages, promotions and loyalty rewards.
'We are proud to be an evolving business, always making our processes better for our customers; the best is yet to come,' The Brand Ambassador said.
She noted that over the years Melcom had been at the forefront of great retailing experience, with more shops being added for easy access and convenience.
Ms Michaels said: 'We have stocked variety of goods under one roof, giving our customers the best in terms of pricing and quality.
'This trend will continue as we are poised to do more. We shall continue to introduce more products on our over 40,000 shelved items to meet the evolving needs and lifestyles for our ever growing customer base.
'We have even gone steps further with the setting up of our Foundation Melcom Care. Within the short period of its establishment we have done so much on the area of education empowerment, health service delivery and food security for the less privileged.'
She said: 'I salute all our customers for their loyalty; every month over 800, 000 of you come through our shops nationwide, you are the reason why we are here.
'You have stood by us and have shown that Melcom is indeed 'Where Ghana Shops'.   Thank you for keeping faith with us."
She lauded the Group's partners and stakeholders for their support over the years; adding that 'we have endless opportunities'.
'To our over 1,200 energetic multi-national staff, in our 32 shops across different regions in Ghana, you've been wonderful, you are the brand ambassador on the ground, when you see our TV, billboard, outdoor and print advertorials, please mirror yourself in those commercials, you are part of one big happy family with a lot of love for Ghana. We are part of the Melcom Connection,' she said.
Mrs Sonya Sandhwani, Director of Brand Management of the Melcom Group initialled the Brand Ambassadorship agreement for the Group.
In another development, the Group in collaboration with the Association of Alcohol Manufacturers and Importers launched the Responsible Alcohol Retailing Campaign in Accra, to promote responsible alcohol retailing in the country.
The campaign dubbed, 'Think Twice, Drink Wise' is   a pilot programme aimed at providing factual information about alcohol and its effects to empower consumers, promote responsible sale and use as well as to discourage the sale and consumption of alcohol by individuals below the age of 18 and pregnant women.
GNA