Queen Mothers Foundation Holds Kente Expo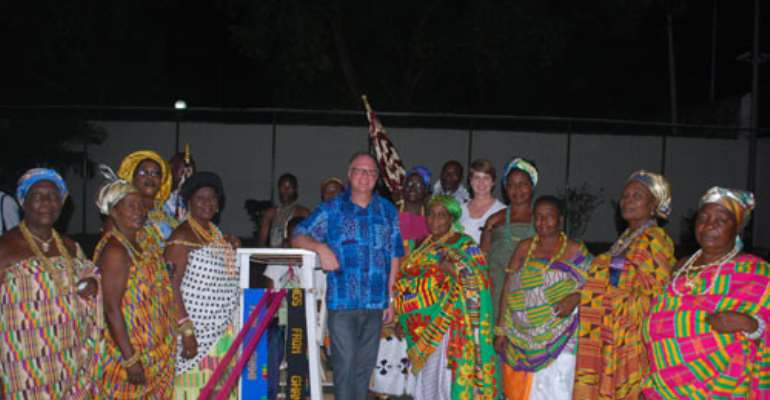 The queen mothers pose with the Canadian Ambassador to Ghana
The Queen Mothers Foundation, which is made up of queen mothers across the country, has held a trade exhibition dubbed, 'Night of Kente' at the Canadian High Commission in Accra.
The event, which was organized in collaboration with the Canadian High Commission, also brought together personnel from other diplomatic missions in Ghana.
President of the Foundation, Nana Ama Serwaa Bonsu, in an interview with BUISINESS GUIDE, said the Kente Expo is one of the projects that would help draw attention to traditional artifacts and create employment opportunities for the people.
Nana Ama Serwaa Bonsu, who is also the queen mother of Offinso Kyeraa in the Ashanti Region, said that the event was also to strengthen cultural ties with the diplomatic missions and create a channel to boost the trade of local Kente entrepreneurs.
The President also indicated that the Foundation has 84 members across the country.
She mentioned that the association fosters cordial relationship among queen mothers and encourages them to adopt good practices.
She said the Foundation plays a key role in ensuring good governance to empower women.
The queen mother added that her outfit also runs a charity to help the less privileged in society.
By Solomon Ofori