Prosecution presents third witness is sodomy case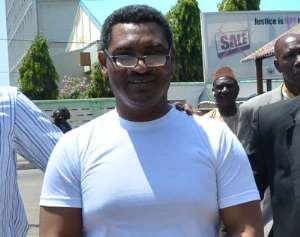 Dr Sulley Ali Gabass
Accra, Feb. 17, GNA - The prosecution in the case involving Dr Sulley Ali Gabass, the medical practitioner accused of sodomising a 16-year-old senior high school student, on Tuesday presented their third prosecution witness.
The witness, Sergeant Francis Odei-Asiedu, who is also the investigator in the case gave his full evidence in the case but was heard in camera.
He is expected to be cross-examined by the defence Counsel for Dr Gabass on the next adjourned date.
The case was adjourned to February 19.
At the last sitting, the Defence Counsel for Dr Gabass, ended its cross-examination of the State's second prosecution witness, Manasseh Azure Awuni, a journalist.
Earlier, Deputy Superintendent of Police (DSP) Aidan Dery told the court that the accused person resides in Takoradi in the Western Region.
DSP Dery said in September last year, the victim became Dr Gabass's friend on Facebook, a social media platform, and they chatted on line and on the cell phone.
The prosecution said in October last year, Dr Gabass arranged and met the victim at Kasoa New Market, where he had anal sex with him in his car in front of a bank.
DSP Dery said on December 28 last year, at about 1900 hours, Dr Gabass met the victim again at the same spot and had another anal sex with him, and gave him a Samsung Galaxy mobile phone and GH¢ 20.
The prosecution said the victim fell ill and when he informed Dr Gabass, he prescribed 'paracetamol' tablets for him.
DSP Dery said Dr Gabass had three more anal encounters with the victim, and after the fifth act, the victim started experiencing excruciating pains.
He complained to the accused person, who gave him money to receive medical treatment but the victim did not go for the treatment.
The prosecution said when the victim's condition worsened he was sent to the Ahmadiyya Mission Hospital but was referred to the Korle Bu Teaching Hospital.
The prosecution said when the accused person was informed about the victim's plight, he sent GH₵ 800 through the victim's elder brother to cater for his hospital expenses.
DSP Dery said Anal Fistula and Anal Rectal Abscess surgical operations were performed on the victim, and it was during the session that he was diagnosed HIV positive, and mentioned Dr Gabass as the one responsible for the ailment.
The prosecution said while on admission, the witness got wind of the matter and interviewed the victim, conducted background checks on the accused person, who was also interviewed.
In secret recordings, Dr Gabass allegedly confessed having anal sex with the victim.
Following media publications, the police initiated investigations into the matter and the Domestic Violence and Victims Support Unit in Sekondi arrested Dr Gabass.
During police interrogation, Dr Gabass admitted knowing the victim as a friend but denied having anal sex with him.
GNA