KKD Escapes Bench Warrant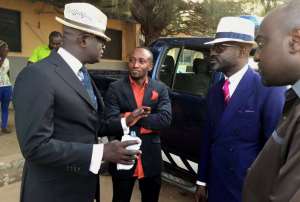 Embattled showbiz icon Kwasi Kyei Darkwah, aka KKD, yesterday narrowly escaped being served with a bench warrant for his arrest when he did not show up in court.
According to Ms Cynthia Lamptey, the Director of Public Prosecutions, KKD was technically absent and 'would have asked for a bench warrant' for his arrest.
She said it was wrong for counsel for KKD, Anthony Forson, to verbally tell the court that his client was sick and had been admitted at the Korle-Bu Teaching Hospital without producing any medical report to that effect.
Ms Lamptey warned that next time Mr Forson must do the proper thing.
This was after counsel had told the court that he had received information that KKD was taken ill on Wednesday and had been admitted at the facility for bed rest.
He said a medical report was being prepared by the doctor at the hospital and would make a copy of same available to the state prosecutors and the court.
The trial judge, Mrs Adwoa Akyaamaa Ofosu, in adjourning the case to February 12, 2015, wondered why the said medical report was not ready even though KKD had been attended to.
It may be recalled that at the last adjourned date, state prosecutors served KKD, the Chief Executive of the Finest Productions, with the bill of indictment which set the tone for the start of the trial, although Ewuraffe Orleans Thompson, the 19-year-old complainant in the case, was reported to have written to the state about her disinterest and desire to see the charges dropped.
Earlier, the prosecutor, ACP Moses Atibilla, had indicated that they had also filed the necessary processes at the high court to commence the trial.
He was optimistic the committal proceedings would begin for the case to be moved to the appropriate court.
KKD has been hauled before the court for allegedly raping Ms Thompson in a bathroom at the African Regent Hotel, Accra, on December 27, 2014.
He is said to have had carnal knowledge of the victim without her consent, even though KKD claimed that it was consensual sex.
He was consequently granted bail in the sum of GH¢20,000 with two sureties by a
Human Rights Court on humanitarian grounds, after he had been on remand at the Airport police station over the offence.
The court granted the bail because counsel for the accused person filed supplementary affidavits on January 6,2015 and further affidavits on January 8, 2015 supported by a medical report.
By: Jeffrey De-Graft Johnson
[email protected]