We Won't Be Complacent …Gyan Pledges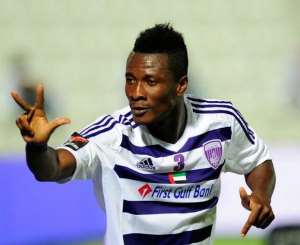 Ghana captain Asamoah Gyan
Ghana captain Asamoah Gyan has stated that the Black Stars will not be complacent when they  face their South African counterparts tomorrow in their last group game at the Estadio de Mongomo.
'We are not going to be complacent, the South Africans will come out strongly and we are aware of that. Don't forget they are yet to win a game and they want to prove a point.
'That makes the game dicey and difficult so we have braced ourselves up for that. We have put last Friday's game behind us, what we are concentrating on is the South African game.
'Anything is possible in football, so we are not going to relax and think we are already there. Now that we are back on track, we shall keep fighting till we realize our dream of breaking the trophy jinx,' he said in an interview.
Gyan, who was voted the best player in the Ghana/Algeria game, returned from injury to power the Stars into contention after losing their first game, and on his perception about that strike, he said, 'I dedicate that goal to the entire Ghanaian populace. I believe it will go a long way to unify us in a special way.
'A lot has gone on after the Brazil World Cup campaign.
It is high time our teeming fans back home rally behind us like before. It is our wish to make them happy all the time. Let's forget about Brazil and move on,' he added.
Ghana will face South Africa tomorrow in a must win clash for the Black Stars to ensure their continuous stay in the competition