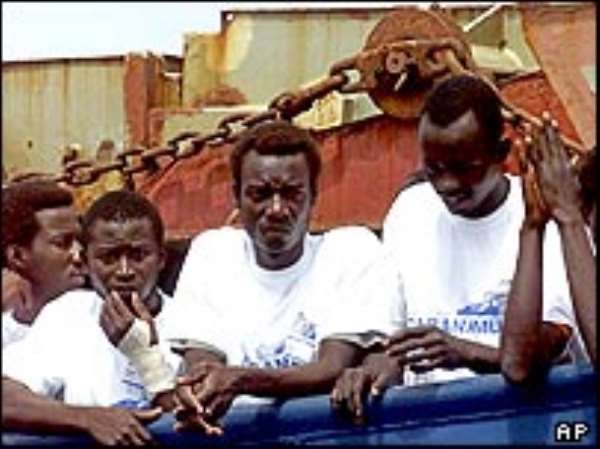 Accra, July 22, GNA - Twenty-five Ghanaians deported from Italy where they failed to gain entry after claiming they were Sudanese nationals fleeing the crisis in the Darfur Region arrived in Accra on Thursday. The deportees were picked up at sea by a German humanitarian ship when their boat went adrift. They were allowed into Italy in a highly publicised event after other European countries had turned them away. They were made up of 16 from the Northern Region, three from the Brong Ahafo Region, two each from the Central and Eastern Regions and one from the Greater Accra Region. One deportee, who is believed to hail from the Ashanti Region, insisted that he was not a Ghanaian but a Sierra Leonean. Some of the deportees, who spoke to Journalists, said they left Libya by boat in June for Italy. But while in international waters the boat began to take in water. The damaged boat drifted for several days until a German humanitarian ship rescued them. They were screened and identified as Ghanaians by Ghana Embassy officials in Italy. Italy Expels "Ghanaians From Dafour" ... 27 of 37 Flown to Ghana Ghanaians not listed as refugees - Minister BBC-- The Italian authorities have expelled almost all of the African migrants who arrived last week on a ship run by the German campaign group, Cap Anamur.
Protests on board a plane taking 27 migrants to Ghana delayed the flight for two hours on the runway of a Rome airport on Thursday morning.
Four of the asylum-seekers were taken off the plane after "causing a disturbance", an official said.
The Italian interior minister says none of the group were genuine refugees.
Giuseppe Pisanu said that of the original 37, who claimed to be from Sudan's troubled Darfur region, five were Nigeria and the rest from Ghana.
Five Nigerians have already been flown to Lagos.
MPs and campaigners also tried to occupy the check-in area at Rome's Fiumicino airport.
The four who were taken off the plane are being investigated by the police, an interior ministry official told AFP news agency.
The BBC's David Willey in Rome says that Italy is taking a tough line on illegal arrivals, tightening up a new, stricter immigration law which came into force two years ago.
Some parts of this law relating to expulsions have been declared invalid by Italy's constitutional court, so the government has moved to plug various loopholes while still providing refuge to people genuinely seeking political asylum for legitimate reasons, our correspondent says.
Warning
On Wednesday, Mr Pisanu warned parliament that up to two million Africans and Asians were waiting in Libya for an illegal sea passage to Europe.
There are several hundred criminal groups waiting to transport them across the Mediterranean, he said.
The minister painted an alarming picture of the huge number of potential illegal immigrants.
The people smugglers were waiting to take them to Italy, at a cost of $1,500-$2,000 a head, he said.
Italy, with its long coastline, is Europe's weakest frontier segment, the minister admitted.
He said the estimated profits earned by people smugglers this year run into billions of dollars.
The minister was reporting to parliament on the group of Ghanaians and Nigerians who landed in Sicily and sought political asylum earlier this month by claiming falsely that they were Sudanese refugees from Darfur escaping the humanitarian disaster there.
Not one of the so-called refugees came from Darfur, the minister told parliament.