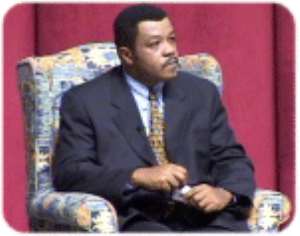 The flagbearer of the National Reform Party (NRP) in the 2000 presidential election, Mr Goosie Tandoh, will not file his nomination to contest the presidential primary of the party if its National Working Committee (NWC) decides to organise it.
A close confidant of Mr Tandoh who said this in an interview in Accra at the weekend said the former presidential candidate however, still remained a member of the National Working Committee of the party.
According to the source, the main concern of Mr Tandoh was the deepening of the country's democratic process and therefore enjoined the leadership of the various political parties to encourage their members and supporters not to indulge in any activity that would threaten her security and stability.
" It is the wish and prayer of the 2000 presidential candidate of the NRP that Ghana would come out a more united and focused nation after the conduct of the 2004 general election," it said.
The source said Mr Tandoh urged the political parties to irrevocably commit themselves to ensuring that the December election was conducted in a free and fair atmosphere devoid of antagonism and rancour which would not augur well for the strides the nation had made since 1992 to consolidate her democratic practices.
" Mr Tandoh wished the presidential candidates in the forthcoming presidential election the best in their endeavours and enjoined them to secure the security of the nation before and after the election,'.