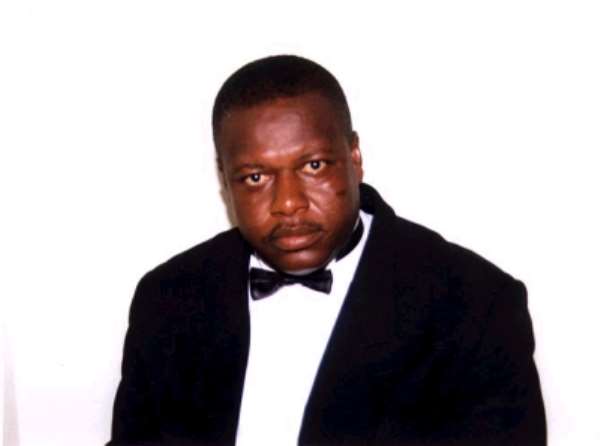 THE CENTRAL Regional Minister, Mr. Isaac Edumadze (pictured) and Mrs. Ama Benyiwa Doe, the National Democratic Congress (NDC) Member of Parliament for Gomoa West, on Tuesday smoked the peace pipe as they danced together to the tune of brass band music.
Even though the event was not very eventful, it was symbolic because the two personalities, who belonged to rival political parties, had engaged in airwave battle in the heat of the voters' registration exercise, which was marred by shortage of registration forms.
It was during the exercise that Benyiwa Doe expressed concern over inadequate supply of registration forms in her constituency, during a newspaper review programme on Adom FM, a local radio station based in Tema.
The Minister, notwithstanding the agitation by the woman, had phoned in and made derogatory remarks during the programme.This degenerated into an airwave battle between the two till the host calmed them down. A section of the general public, who listened to the programme at that particular moment, had condemned the behaviour of the Minister.
Since then, it had remained in the public domain that the two were political enemies.
This dramatic event, which took place at the Gomoa District capital, also involved the District Chief Executive (DCE), Miss Joyce Adu. Miss Adu and Benyiwa Doe had been at loggerheads for sometime against the background that the DCE was undermining the MP to lose her seat. Again, this had resulted in an airwave battle between the two. This had also made the people of the area accuse them of undermining the progress of the constituency and the district as a whole.
Their reconciliation therefore received applause from the chiefs and the crowd, as it symbolized the beauty of democracy.
In an interview with Benyiwa Doe, she told the paper that as a politician, she did not perceive them as enemies; but was always prepared to set the records straight whenever someone infringed on her rights.
"In politics, when you are not happy with something, you express it. And at a particular time, he told me something that I was not happy about and I reacted as a colleague Member of Parliament; and once that is settled, that is it," the vocal lady explained.
This reconciliation was made possible, courtsey the launching and celebration of World Population Day, which took place at Apam. The theme for the celebration was: Safe motherhood -Everyone's responsibility.
Earlier, Mr. Edumaze in his speech, had reminded programme managers of the crusade not to sideline the males in their quest to reduce maternal mortality.
The Minister noted that the country was a male-dominated society, as such men played a major role in decision-making, therefore, they should be involved in the relevant reproductive programmes such as safe motherhood, in order to play a meaningful role in the realization of the crusade.
Mr. Richard Turkson, Executive Director of the National Population Council (NPC), also advised men to a play a key role in the safe motherhood crusade.