Negative Cultural Practices Impedes Development—SWEGG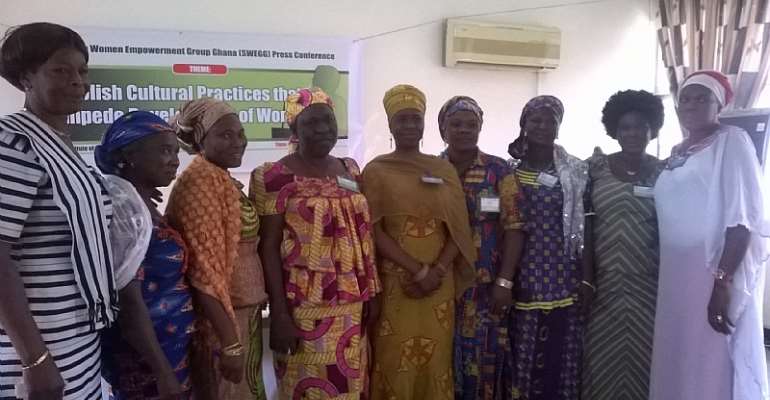 The Savannah Women's Empowerment Group Ghana (SWEGG), a non - partisan women's reputes network advocating for improved status and welfare of women in Ghana in particular the Savannah zone of Ghana has called on society to do away with cultural practices that impedes development of economic, political and social well-being of women, particularly women in the northern Ghana.
The group says it is however regrettable that many ethnic groups in northern Ghana still indulge in certain cultural practices ranging from rituals at childbirth, puberty, marriage, funeral and widowhood which run contrary to the provisions of the constitution.
Citing Articles 26(2) of the 1992 constitution of Ghana to buttress their points which says ''All customary practices which dehumanizes or are injurious to the physical and mental well-being of a person, are prohibited''. The group further claimed that dehumanizing cultural practices such as female genital mutilation (FGM), widowhood rites, forced marriages, high bride price, domestic slavery, violence against women accused of witchcraft as well as other violent practices are still meted out to women and girls with impunity, in spite of the provisions in the constitution particularly Article 39(2) of the 1992 constitution.
Marriage systems
Speaking on marriage systems the group were not so happy about the dehumanizing aspect of it which they say has become a business venture where parents of the bride more or less seeks to exploit for capital gains where by the groom pay huge sums of money, drinks or two or four cattle's depending on the traditional area.
Swegg says many women are forced to remain in abusive marriages because culture will demand that they pay back the dowry before walking out of the marriage describing it as unacceptable in modern society which professes to be democratic.
According to the swegg governor another ritual which is equally dehumanizing is the event that a woman loses her husband, the widow often undergoes dehumanizing rituals which rob them of their right to privacy, dignity and independence contrary to Article 15(1) of the 1992 constitution which states that the dignity of all persons shall be inviolable.
Remedy
Swegg therefore calls for the enactment of laws to guard against this outrageous dowry system and other dehumanizing cultural practices. It says nothing should prevent parliament from enacting laws that are reasonably necessary to provide for matters relating to adoption, marriage and divorce, devolution of property of the dead or other matters of personal law.
The communiqué further urged district assemblies, MMDA'S and the national house of chiefs and other stakeholders to collaborate with swegg to fight against these negative socio-cultural practice that hinder the development of Ghanaian women.
These statements were read by the convener of the group Amina Montia at a press conference here in Accra.
Swegg's objective is to serve as a movement for northern Ghana to actively advocate for women's rights and economic justice and active participation in all decision making process ;abolition of negative socio-cultural practices ,a forum for the exchange of ideas and discrimination against women, a solidarity movement of promoters of gender equality and empowerment.
Membership of Swegg is open to all including cso's, ngo's,civil leaders, national networks,cbo's etc.
Swegg's activities are mostly facilitated by foundation for security and development in Africa (FOSDA) fosda is a non- profit organization formed to examine the causes of conflicts and further the capacity of African institution and civil society organization in the field of human security and development.