The Ghanaian Goldilocks
New Children's Books Give Classic Fairytalea Modern Makeover by Taking a Detour Through Ghana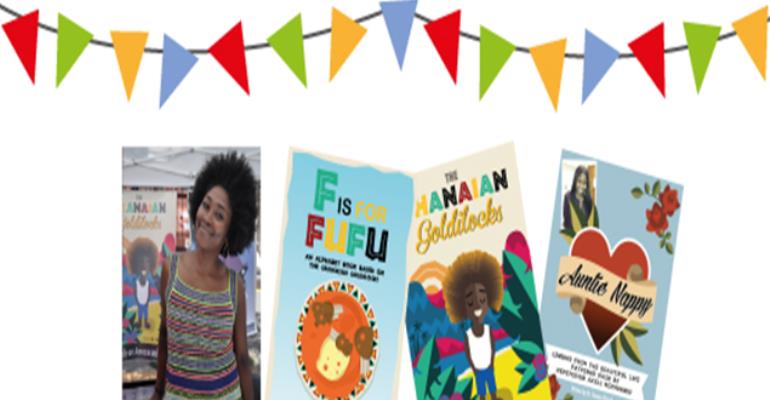 The Ghanaian Goldilocks and F is for Fufu Bring West African Principles to Children Around the Globe, Now Available on Amazon and Kindle
ROME, October25, 2014 –Today The English Schoolhouse Publishingannounced the availability of its first two West African-inspired children's books on Amazon.com and for Kindle users. The Ghanaian Goldilocksis a one-of-a-kind book that takes a fresh and clever approach to retelling a classic children's story.F is for Fufu is the perfect companion to The Ghanaian Goldilocksbecause it provides an informative rhyming alphabet text that explains Ashanti-based vocabulary. Both books will provide children of color with the opportunity to see themselves and African culture beautifully depicted with engaging prose.
"I grew up during a time when read-alouds featuring Black males as lead characters were rare or read only during Black History Month," said Dr. Tamara Pizzoli, book author and founder of The English Schoolhouse Publishing. "Brown boys deserve to be main characters in classic fairytales...and often. These books are an important step in that direction and will hopefully start a trend of re-casting and redefining classic fairytales."
As a former bilingual Kindergarten teacher, Pizzoli developed a true love for children's literature during her decade-long career in the classroom. During this time, she developed a knack for spotting good stories and uncovered a gap in the world of children's literature. With this in mind, she ran with the idea for the first set of books based on an experience with her own son. The idea came to her one day while watching her eldest son Noah, who has a curly afrothat turns blondish on the ends during the summertime similar to title character Kofi (Goldilocks), play on the beach in Italy. Pizzoli married her knowledge of Ghanaian culture (gathered from several visits) with her love of storytelling to bring these unique stories to life.
The English Schoolhouse Publishing has several titles in development, including a special book dedicated to the author's sister, Nefeterius Akeli McPherson. She passed away on March 19, 2014 after being diagnosed with cancer only eight days prior. The book,Auntie Nappy, is a story written to Pizzoli's two sons attempting to explain the importance of their aunt's life and the difficulty of her passing. It is currently available on Amazon.com and Kindle. Other upcoming titles include Aunt Bunny, a story about a fourth grade student who helps out in her mom's vintage shop after school, Me vs. The Fly, and The Very Last Diaper.
"It is my hope that our first three titles and those to follow will serve as new staples in the realm of quality multicultural children's literature, and inspire children of all backgrounds to be enriched by the lessons, wisdom and principles of the Ghanaian culture and others," said Pizzoli.
The Ghanaian Goldilocks and F is for Fufu are available on Amazon.com for $12.95 or on Kindle for $5.99.Signed copies are available by the author as well as wholesale bulk copies.
Dr. Tamara Pizzoli is a lifelong learner and educator who splits her time between Italy and her native Texas. She's mom to two beautiful sons, Noah and Milo, who often inspire what she writes.
For more information, email [email protected]
@Engschoolhouse (Twitter)
Dr. Pizzoli is an educator too, that founded The English Schoolhouse and The English Schoolhouse Publishing in Rome, Italy!
The audiobook link is:
Other books written by Dr. Pizzoli are F is for Fufu: An Alphabet Book Based on The Ghanaian Goldilocks Link: http://amzn.com/099600162X and Auntie Nappy: Lessons From The Beautiful Life Patterns Made by Nefeterius Akeli McPherson Link: http://amzn.com/0996001646
Frenchaire
The Ghanaian Goldilocks
Director of Public Relations and Marketing
Contact: Dr. Tamara Pizzoli
[email protected]
@engschoolhouse