Twum Boafo On Rampage In London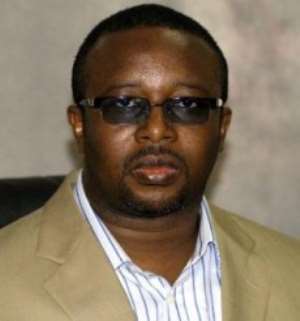 Kojo Twum-Boafo

Chief Executive Officer (CEO) of the Ghana Free Zones Board (GFZB), Kojo Twum-Boafo, who is noted for his abrasive lifestyle, is in the news again.
This time round, in far away London, the man who recently had issues with his ex-wife, went overboard to trade vulgarities with his latest victim as contained in a telltale video circulating in the social media and other platforms.
It took place when he had an altercation with one of the Ghanaians who staged a demonstration in London, UK, last week against President Mahama over his poor handling of Ghana's economy.
In the video, which has since gone viral, Kojo   Twum-Boafo is seen neatly dressed and spewing unprintable words on one of the demonstrators who picketed in front of a hotel accommodating President John Mahama during his recent visit to London.
Mr Twum-Boafo was part of the President's delegation to the UK for investment drive; and he was there with Hannah Tetteh, Minister of Foreign Affairs; Tony Aidoo, Ghana's Ambassador to The Netherlands; Victor Smith, High Commissioner to the UK and Fiifi Kwetey, Minister of Agriculture, among others.
Not even a British police officer's intervention and some of his colleagues on the trip could restrain him from raining vulgar words—all of which cannot be put in print—on the protester.
At the time, Mr Twum-Boafo was said to be passing in front of the luxurious Marriot Grosvenor Hotel located at number W1K 6JP in London, where the protesters had convened, singing a local Ghanaian socio-political song, 'Woyome Woyome, Woyome Woyome oo. Woyome Woyome oo, gargantuan oo wonkye ndi,' against corruption and embezzlement.
He was said to have made a comment which sought to denigrate the protesters as idle people who could afford to demonstrate at around 4:30 pm when they were supposed to be at work.
One of the demonstrators in reaction to the derogatory remarks, recalled loudly how           Twum-Boafo allegedly acted in an unacceptable way with his stepmother and pulled a gun when the father intervened.
An obviously enraged Twum-Boafo was then said to have lost his cool, shouting on top of his voice, 'You slept with your mother; have you ever slept with your father's wife? Are you a fool?' as people, including a uniformed British police officer, tried to restrain him, with the protester also responding with 'f..k off, f..k off.'
Instantly, the Free Zones boss' behaviour caught the attention of passersby and some patrons of the hotel.
However, the police and others managed to take the controversial GFZB boss away from the scene to avoid possible clashes, since he was bent on going to confront his victim.
As he was being whisked away, the demonstrators hooted at him.
Twum-Boafo recently had a brawl with his driver over his (Twum-Boafo's) son during which he allegedly pulled a gun on the driver, a certain Seth Obeng.
Seth incurred the wrath of his boss when he stopped him from attacking his (Twum-Boafo's) mother        in-law when he went there to pick his son for a weekend.
Twum-Boafo went to the in-law's house only to be told that the child's mother had taken him away. He was infuriated by the announcement.
'I pleaded with him to stop because I was beginning to feel embarrassed for his conduct; everybody who knows him knows that he does not want to be spoken to…,' Seth recalled.
In the heat of the altercations with the elderly woman, the driver said, 'The 80-year-old woman called him a foolish man …' among other unprintable words, which seemed to have provoked Twum-Boafo.
He and his estranged wife were in court for divorce.
DAILY GUIDE also learnt that he allegedly exhibited a similar trait at the Nima Police Station where his son's mother had lodged a complaint against him and the Nima Domestic Violence and Victim Support Unit (DOVVSU) of the Ghana Police Service had invited him for settlement.
After the case had travelled to mid-night and they had been asked to go home, Twum-Boafo in public glare, was said to have rained unprintable words on the woman to the embarrassment of the police.
The woman, who had custody of the boy, purportedly reported to the police that her son had complained that Twum-Boafo insulted her and also had a gun on him which frightened him (son)—a situation, it was gathered, that had caused the son to desert his dad.
 A DAILY GUIDE REPORT