Doubts over Angola snatching Africa's top oil spot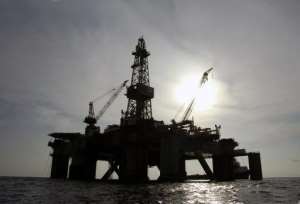 Insiders from Angola's burgeoning oil industry have reacted sceptically to predictions that the rapidly growing nation may be about to overtake Nigeria as Africa's largest oil producer. By Marcel Mochet (AFP/File)
Luanda (AFP) - Insiders from Angola's burgeoning oil industry have reacted sceptically to predictions that the rapidly growing nation may be about to overtake Nigeria as Africa's largest oil producer.
The International Energy Agency has predicted that from 2016 to around 2020 Angola will pump more crude onto the world market than its rival, thanks in part to Nigerian oil being syphoned onto the black market.
"If it happens it will mainly be because of instability in Nigeria, both politically and because of the theft of oil," said Jose de Oliveira, a Luanda-based industry expert.
"And if it does happen it can't last a long time. Nigerian reserve capacity is larger than Angola's."
Nigerian production hit a peak of 2.44 million barrels a day in 2005, but has wavered since.
Angola currently produces about 1.71 million barrels a day, but industry sources worry about disruptions there too.
"The interesting thing is that the IEA's forecast put Angola in first place without really being precise about what Angolan production would be," said an industry source, who asked not to be named.
"That means it is unlikely that Angola will pass the symbolic two-million-barrels-a-day mark," said the source.
Technical problems, infrastructure bottlenecks and state intervention have all hampered production and stalled the achievement of that goal.
The International Monetary Fund recently predicted that Angola will post a budget deficit this year, citing a dramatic fall in oil production.
Observers also point to a worrying absence of new discoveries and ageing existing fields.
Angola in 2008 briefly dethroned Nigeria as Africa's largest producer because of unrest in the Niger Delta region.