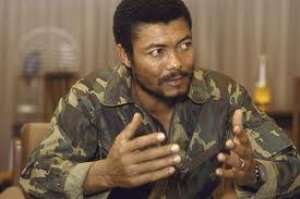 By popular request from friends and readers who read the first article and those who never read it from within and the Diaspora, but have been told of the quality and the revelations, this article in a revised edition is hereby reproduced for those who did not have the opportunity to read the original one published at the end of June. At certain stages, it will make the reading mouth-watering and yet open the skeletal remains of persons hidden in cupboards. Please, read on.
First of all, cherished readers and fellow compatriots, let me try to correct a very erroneous impression that Mr. Rawlings has, over the years, created in the minds of people that he was the only person who could make and unmake Ghana. Judging from his posture, apart from himself; nobody else was honest. Not only that; but, perhaps, he thinks he is the most sensible and probably the wisest person in Ghana and that is very, very untrue.
And since he started eating and drinking politics in Ghana let alone having read about our forefathers who struggled and fought selflessly and relentlessly to gain self-rule and independence for this nation Ghana; virtually, there has not been any corruptible person/politician who, perhaps, surpasses this self-inflicted enemy, arch-rival and colleague ex-president, John Agyekum Kufuor. The apparent enmity could well be that Kufuor's two-term office of four years by far outpace that of his 19 years including the 11 years tyrannical rule under the AFRC/PNDC that Ghana went to the political abyss. Why this pettiness and unprecedented hatred?
And for how long would J.J's attitudinal hatred, change for the better? Does he not know that he is gradually sowing the seed of enmity between his children and those of JAK? How does one expect these two parallel families to co-exist after the two 'oak trees' have fallen? Only God knows! Apart from the failed or abortive military insurgence of his on Thursday, May 15, 1979, that was probably the only brainchild of his, none, repeat none, of the two successive changes of governments by force of arms i.e. coup d'etat on Monday, June 4, of the same year and Thursday, December 31, 1981, was his architectural design.
The first, incidentally, June 4, supposedly carried out by his best-man, then Captain Boakye Djan, who it is rumoured by many, later became his arch enemy. Then the second one of December 31, 1981, was also led by the then tiny-mind Sergeant Alolga Akatapore of the 5th Battalion of Infantry of the Ghana Army stationed at the Burma Camp, Accra. Later, after the overthrow had succeeded and the country restored to normalcy, this poor sergeant was hotly chased out for fear of losing his life. And what was the reason? He became more popular in the overthrow of the late President, Dr. Hilla Limann. He had to flee thereafter into exile in Britain for 30 years and how his wife and family fared for themselves, was by an act and finger of God.
Miraculously, the rescue operation from prison custody on that fateful Monday dawn coincided with the arrangement that his friends, Boakye Djan and others had decided to release him from cell. That prevented an imminent death sentence by firing squad. Possibly, between 10.30 a.m. and 12.00 p.m., there would have been a pronouncement of death sentence if luck had not earlier smiled at him.
Except for the many Ghanaians under 35 years who do not know, when the June 4 Revolution succeeded, Col. Enningful's wife and household were wiped out from the earth's surface by his 'crazy', suspected wee-smoking and uncontrollable soldiers between June 4 and 16 alongside the 8 Generals three of which were former heads of State (Lt.-Gen. Akwasi Amankwa Afrifa, Gen. Ignatius Kutu Acheampong and Lt.-Gen. Fred W. Kwasi Akufo); Air Force Commander, Air Vice-Marshall Yaw Boakye, the Navy Commander, Rear-Admiral Joy Amedume, the Border Guards Commander, Lt.-Gen. Emmanuel Kwasi Utuka and the Army Commander, Brigadier N.A. Odartey-Wellington, who met his untimely death while trying to fight the junior officers' unprofessional military insurgence with equal force. This may be an unknown hidden secret to the youth of today. Now continue to read on.
JUNE 4, 2014 AND THE INFAMOUS ANNIVERSARY
Mr. Rawlings's undignified pontifical mass for the 35th anniversary celebration for this year's function that has been ruled out by the Supreme Court of Ghana as unconstitutional, according to his own Gospel of the book of St. Jeremiah, Chapter 79 (even though, the Book of Jeremiah does not have as many as 79 chapters, but 52); the author has humorously coined this to suit the 1979 atrocities and excesses committed during this period by junior officers of the Ghana Armed Forces and the other ranks, supposedly led by him because he was the only one whose fluency and proficiency in the Queen's English language were unparalleled hence, as it were, the use of Jeremiah 79: verses 4 and 6 (fourth representing the date and the sixth for the month of June).
It is rather unfortunate that to date, Mr. Rawlings has never seen any wisdom to show signs of remorse and does not even hope to dream of asking for an apology from Ghanaians with a contrite heart to pray for forgiveness. But strangely enough, his stock in trade has always been to celebrate this infamous dictatorship and tyrannical rule amidst fanfare, pomp and pageantry with the connivance of few dignified personalities who have nothing to lose than to gather in their hundreds for pittance after the celebration was over. Is it not shameful, worrisome and very sordid indeed?
Once again, on the morning of June 4, 2014, as characteristic of him, Mr. Rawlings had sent out invitations to his cadres/cronies and a couple of hundreds of youth who, probably, were under 35 years and did not know the full and concise history of Ghana before independence. They had gathered patiently to wait for their idol. Most of these youth had not yet seen anything in life, let alone play any meaningful role either. The only person that these people knew was JJ and nobody else. Their aim was to collect the daily 'chop money' of say, Gh¢10.00 to cover for transport to and fro the Square opposite the Jubilee House. They converged there to hear the usual rantings against Mr. Kufuor and his opposition members and the telepathic clap of hands to announce to the world that there was a huge gathering when he celebrated his anniversary.
The nefarious, criminal and unconstitutional act he has on two occasions committed against the State and people of Ghana including, of course, the initial mutiny of May 15, 1979, a total of three, all of which were very treasonable, could have ended his life abruptly at the Teshie Military Range or for life imprisonment. If I were him but cannot be him, the obvious thing I will always do was to repent, pray fervently and reflect soberly and ponder over the gloomy past memories about the many atrocities and excesses that were committed during my two administrations and ask for forgiveness from God and Ghanaians and those whose parents and relatives who lost their lives because of my inordinate ambitions. The Good Lord should do well to obliterate this unpardonable and ignominious cruelty to humanity, this indelible stigma and ignore them totally and to remember me and write my undeserved blood-stained name in the Book of Remembrance. God should forgive him for the extra-judicial killings against humanity.
The horrendous crimes committed against the State are rather unimaginable and unprintable. Because of his incorrigible and stubborn posture, he will never do this. Since his appearance onto the Ghana political microscope and limelight, there has virtually been no occasion that his utterances and outbursts have not been centred and associated with insinuations and vituperations – all against the NPP who, he claims to be the bourgeoisie class and who can 'steal' government money but cannot be caught for prosecution. As someone puts it, it has always been litany of errors and agitations on his mind. One wonders whether having exited from frontline active politics; he has seasoned advisers who periodically brief him before spitting his chronic bombshells. It should not be surprising that one of his former deputy ministers, Dr. Tony Aidoo, for no mean ministry than the Defence under him as a democratic chief executive, this same man, having gotten a fresh appointment as an ambassador to The Netherlands, goes haywire on air from far away Amsterdam to insult the intelligence of Ghanaians with very vulgar, unprintable and unpolished language when he was allowed airtime to explain his side of the story that had been attributed to him by a compatriot, one Appiah Stadium.
THE DECADE THAT BROUGHT THE DECAY – 1982-1992
Mr. Rawlings may not have been lucky to succeed the December 1981 coup attempt but for the acquiescence and connivance of the late PV and Sgt. Alolga Akatapore. On PV's part, since he was the chief engineer at Mankoadze Fisheries whose vessel carted the arms and ammunition from Gaddafi's Libya; it became easier for them to beat the security. On his part, having clinched the loyalty and comradeship of Alolga, a professionally trained soldier backed with 15 years standing as special non-commissioned staff (training of weaponry, military tactics, precision, strategy, expertise in other sophisticated arms (the G3, the SMG, ground-to-air missiles) and ammo handling experience acquired from the British instructors) while at the boys' company in Kumasi in the late 60's, mind you, JJ had secured the unflinching support for his inordinate pregnant ambition to materialize. PV assisted him so he should be rewarded in kind.
He became the de facto prime minister. Alolga initially was also remunerated to become a member of his PNDC but was later chased out. The death of three high court judges and the army officer, Major Sam Acquah i.e. Justices Cecilia Koranteng Addow (Mrs.) – then a nursing mother of a three-month old baby who, according to Prof. Aaron Michael Ocquaye, courtesy, Oman FM Morning Show programme dubbed, the National Agenda hosted by Kwaku Opare Odasuoko on Tuesday, July 1, 2014, time 08.50 hours ante meridian, were abducted from their homes earlier and driven through the night with special night curfew pass to the military range at Bundase, near Ada and killed while in blindfolds with their hands still tied at their backs. What kind of heinous crime and barbarism were Ghana experiencing at that time?
Who gave these cruel perpetrators the night pass if Rawlings and Tsikata's PNDC government did not know anything about the plot? Incredible indeed and they have the affront to call someone a corrupt person while forgetting they have blood-stained hands. Madam's two breasts, according to the celebrated professor, were slashed off for 'juju' purposes by the barbarians made up of L/Cpl. Samuel Kwame Amedeka, Cpl. Johnny Dzandu and Tony Hekli Tekpor. The names of the trio tell you a lot about the masterminds who still live, drink and eat and who will not bow their heads in shame). Madam's male counterpart, Kwadwo Agyei Agyepong, also had his two legs above the knee i.e. a third portion of the thighs, were amputated for spiritual and/or voodoo purposes.
The third, Fred Poku Sarkodie, escaped special injuries except that they had brutish mutilation of their bodies after they had been shot from their backs. To add insult to injuries, before the assassins returned home after their infamous feat, a gallon full of petrol that according to the same professor of history, was picked up from Nana Konadu's house then at the Ridge Area now being occupied by the CAL Bank on the Independence Avenue near the Latter Day Saints premises, Accra, soaked the dead bodies and set it ablaze to prevent recognition by any passer-by who spotted the charred bodies. But, lo and behold, God sent a special downpour that night to quench the great fire that had been set by the Dark Age hit squad.
Eventually, a Fulani cattle herdsman, happened to be around with cattle for grazing and reported the matter for further action to be taken. Meanwhile, further investigation conducted by DSP J.J. Yidana in this dastard case concluded that those at the helm of affairs of State were implicated. The author urges interested readers to grab copies of the book entitled, 'The Judges Murder Trial written by Ohene Agyekum, the Tribunal Chairman who tried the criminals. And soon after, the killers fled the country most probably at the insistence of their bosses. This is the Stone Age history of Ghana under Rawlings that ought to be told the youth of today about his bloody past. Monday, June 30, yet commemorated the 32nd anniversary of the infamous, dastard and gruesome murder of our celebrated compatriots; and, as usual, Madam Georgina Theodora Wood, gorgeously dressed and graced the occasion with her presence. If she had time for this occasion, why did she not have the guts to tell the 9 panelists who wasted 8 months deliberating the Election Petition Hearing that they had perverted justice; a clear case situation that could have set the whole nation ablaze?
How does she now feel after the infamous judgment? Does she feel sound or ashamed? Posterity will judge her anyway. If Mr. Rawlings and Kojo Tsikata can extricate themselves and absolve themselves from this heinous crime (mind you, the keys for the Fiat Campagnola vehicle used in the abduction exercise was picked from Nana Konadu's dining table), the author will be prepared to stick his neck on the line! Shameful isn't it? Was it because K.T. was still blood-thirsty from his atrocities committed against the innocent people of Congo D.R. then Congo Kinshasa, when he led a platoon of soldiers on a UN peace-keeping expedition – 1961 - to wipe off a township including every living object in that village –that was why he readily acquiesced to be privy to that primitive act? Furthermore, unashamedly, Rawlings, glued to the national television on state broadcast to the nation, on July 1, turned round to accuse the perpetrators of being enemies of his infamous revolution as saboteurs and nation wreckers. Double standards indeed! If the author were Mr. Rawlings, he would go into hibernation instead of always muddying the waters to arouse recognition and attract public attention. His delicacy has always been to incite people especially the down-trodden against the rich in society and authority for which he has perfected par excellence. Why? Why?
What at all does he want in life on this planet earth that he has not yet gotten for himself? Instead of allowing the trauma that has befallen many people who have unexpectedly become orphans, widows and destitute to subside, this same man of a coward will like to rekindle their bitterest moments and rake their wounds. Since his appearance onto Ghana's political scene, he had always not stopped at nothing but to announce his presence and insensitivity to the families he had previously ruined.
Has Mr. Rawlings now regretted and confessed about the excesses including the brutal murder of Osofo Asare of Kumasi who was killed by his cohorts and burnt to ashes and the police woman who was then at the church in Kumasi as well as the brutish "eye hann, eye kanea maltreatment of market women at the Makola Square, Accra" in the full glare of Ghanaians, and elsewhere in Ghana for hoarding and above his so-called controlled prices? But as far as the child who would not let the mother sleep equally does not also sleep, so be it.
INORDINATE AMBITION
Knowing too well what might befall him in future, especially, after involving himself with the two coup d'etats, above named, did he not consult with one Major Stanley Pierre (Rtd.) formerly of the Briscoe Motors, to surreptitiously insert the shameful, inimical, obnoxious, outrageous and controversial indemnity clause in the 1992 novelty Constitution to absolve himself and other cronies who misconducted themselves dastardly in the excesses from blame or legal action. If he has advisers, he should conceal his identity for sometime but, for him, incorrigible as he has always been, does not feel the slightest shame but to bark unnecessarily without any provocation.
It is a big shame that he does not take a cue from colleague world leaders and ex-presidents on retirement and learn from them and be wise like what Prov. 6:6 talks about the sluggard and the ant in the Bible. If he wants to enjoy his retirement in quietude, that will afford historians to seek him to know much about his actions and inactions during his reign as former statesman. If his acquaintances have not mentioned it to him, he should be told that his incessant and flurry of attacks on ex-president Kufuor makes him Kufuor more heroic than a villain of the peace as he thinks. If all that his poverty situation catapulted him to involve in a couple of overthrow of government has not helped him to enjoy his wealth, what else does he want in life?
PERCEPTION
Mr. Rawlings' perception about JAK's high grade corruption and destruction of Ghana's economy is that while he tries to point an accusing finger at JAK, the four remaining fingers keep pointing towards him. May be he has forgotten so soon that after Col. E.M. Osei Wusu (Rtd.) and Ibrahim Adams were found guilty by CHRAJ in bribery scandal and embezzlement against the State; he was the one who hurriedly issued a government white paper to annul same. We are tired and very much tired of his fruitless, boisterous effusions to incite the populace.
Sources close to the World Cup venues for the 64 soccer nations indicate that the cheapest hotel rates per single rooms per night without breakfast were US$800.00. The purported 500 government-sponsored supporters, inarguably and obviously, were all NDC foot-soldiers and cronies. When you multiply the number by the room rate, it gives you some $400,000.00; if you take the group stage that the Black Stars reached i.e. 14 days -June 26, the figure increases to $5,600,000.
This is just the hotel bill only minus food and other subsistence allowances. It is not possible for the Ghana Embassy to pick up this huge bill. Now back to the semantics. Doctors back home are crying for pay rise. POTAG are yelling for research and book allowances. UTAG are gearing up for refresher strikes because Sam Okudzeto Ablakwa who recently dropped off from their hands, picks a colossal pay packet of nine thousand, five hundred Ghana Cedis (Gh¢9,500.00) as a deputy minister in charge of tertiary education.
This gross salary does not include the bits and pieces from the parliament as a member of the majority side, he will obviously be made a member of one or two select committees of the House. Again, he enjoys free telephone, free accommodation and other perks. The GNAT, NAGRAT and Concerned Teachers too, have, as a united front and in unison, shown their dwarf teeth in anticipation for strike actions.
The nurses in public hospitals, health posts and clinics are also in contention for their pound of flesh. NYEP nurses have not been paid for well over 18 months for services rendered and their plea or agitation has gone unnoticed and unheeded. The best Maame Shirley Ayittey (the recent reshuffled minister of Health) and her team of experts could do to appease these angry and hungry workers was to pay them for just 4 months. Either they take it, or leave it, or go hang: and that is the NDC government for you!
The colossal sum above, to the Mahama-led government, is just peanuts to fiddle with. What does Mr. Rawlings have to say if Mr. Kufuor's government had done the same inexplicable mistake while in government? Will he spare the rod and spoil the child or remain silent and let go as usual? Readers should revisit the fairy tale about the 'crab and the scorpion' in the Akan folkloric plays. Crabs are generally, the delicacy of many Akan families whilst the scorpion is inedible, and gets crushed because of its poisonous and dangerous nature.
To date, there are countless number of "trees under schools" instead of 'schools under trees', to quote the NDC MP from the Afram Plains South constituency. Hope his party colleagues still remember that day when he was permitted by the Speaker to exhibit his ignorance and amplify his illiteracy. This figure could well help relieve at least one of such schools from deprived state, Better still, as you read this piece, almost all the government or public hospitals nationwide have no decent places for our pregnant mothers to sleep after the hard labour; all pregnant mothers and sisters after going through the ordeal of labour, are compelled to sleep on bare floor because of no beds, and we take the ugliest pride in being touted as the "Gateway to Africa." Is this not stupidity of the highest order and mockery of ourselves and seemingly akin to the old adage, "While Rome was burning, Emperor Nero was feasting?
PIERCING QUESTIONS THAT NEED ANSWERS
1.Who was/were the signatoriy(ies) to the A/C No. 48 that was opened at the Legon Branch of the Ghana Commercial Bank Limited in the heat of the June 4, 1979 AFRC revolution? How much was realized and how does Mr. Rawlings account for it? If he cannot, he should not decide to open his erratic mouth again to call someone a corrupt person.
2.How much was the Kanda GNTC building and surrounding plot of land cost Mrs. Rawlings? Was it not for Gh¢500.00 (¢5,000,000.00)? What about the Nsawam Cannery and all the machinery within? Was that also not for pittance? Come on! What about the Aboso Glass Factory that he and the master tactician and security capo and expert, Capt. Kojo Tsikata, sold to a confidant, Gilchrist Olympio, of Togo who was in self-exile here? And he has the guts to call someone a corrupt person.
3.Who authorized the sale of the over 9 Black Star Line merchant vessels- MV Volta River, MV Densu River, MV Ankobra River, MV Korle Lagoon, MV Bosumtwi, MV Oti River, MV Pra River, MV Tano River and MV Benya River between 1982-1992 and where is the proceeds? It is believed to have gone to wrong pockets! And who is to blame, Mr. J.A. Kufuor or J.J. Rawlings?
4.Who doled out a whopping $25m to Ms. Cotton, the American con lady for the Aveyime Rice Project? Was it Mr. Kufuor or Mr. Rawlings?
5.Which minister in Ghana had some ¢250m under his bed between 1992 and 1997; that became the toast for his police guards? Was it Mr. Kufuor or Dr. Obed Yao Asamoah?
6.How much money, assets and liabilities were recovered/retrieved or confiscated or seized when the late Col. Kweisie was in charge of the Assets Confiscation Committee? How much did the State benefit from same?
7.How much did the State benefit from the sale and diversified public assets of the over 80 SOEs during the PNDC/NDC.1 & NDC.2 regimes during the 19 years for which Mr. Rawlings was the Master of all Ceremonies in Ghana? Ghanaians must know this for a fact.
8.In whose reign as head of State of Ghana was the ¢50.00 (or Gh¢5.00) notes, the highest denomination at the time, unilaterally demonetized to render most Ghanaians economically impotent? How much did he, the Ahwois and the Tsikatas make from the seizure of the large sums of money at the peril of Ghanaians?
9. Who accommodated Gilchrist Olympio, the son of former Togolese President, Sylvanus Olympio to operate from within to occasionally destabilize the late president Gnassingbe Eyadema to contest for political power? 10. Did Mr. Rawlings confess before his audience this time round that he was extremely sorry for beating up his late vice president, Dr. Kow Nkensen Arkaah at a cabinet meeting in the 90's?
11. Who sowed the seed of indiscipline; nurtured it and matured for harvest these days? The author leaves the answer to the judgment of the good people of Ghana. Do some people still remember the days of "We no go sit down make they cheat us everyday! Daabida?" That was the genesis of the era in Ghana when indiscipline, respect for the aged and authority reared its ugly head in our body politic and it has travelled with us till today.
12. Is Mr. Rawlings aware that between the death of Prof. Mills's death and the elections of 2012 a whopping sum of Gh¢8.8bn was carelessly wasted on frivolous expenses including corrupting all those who matter in society just because JDM wanted to become president by all means and at all cost?
13. Since the Mills-Mahama government assumed power on January 7, 2009, the judgment debts that have been hurriedly paid to 'undeserved' individuals like Alfred Agbesi Woyome – Gh¢51m., CP's €94m. and other corporate bodies just to name a few and their assigns and of course people in government (Uncle Ebo Barton Odro and Mama Betty Mould-Iddrisu and the now tamed S.O.A.), who acted as 'pushers' to ensure Ghana lost heavily and painfully; total up to $1bn. Mr. Rawlings, what is your stake on this? What would you have done if that happened during JAK's time? Be honest with yourself!
14. Mr. Rawlings, now that all Ghanaian contractors have not been paid for the services rendered for the last two years or so and their bankers have not stopped at giving them a chase and confiscating their assets and liabilities and other collaterals, is it worthy that your darling boy, despite the octopus of hardships and problems, should chest out ostentatiously to distribute ten (10) double-cabin pick-ups to the ten regional houses of chiefs for the sake of publicity? Is the provision of pick-ups more important than supply of ordinary writing chalks and attendance registers to teachers all over the country? What is your stake on this too, JJ?
15. Will JJ not agree with the author that if not but for the dislike of change of government by force of arms, his darling boy would have been booted out of office and uprooted like cassava from soft soil in the rainy season?
16. Mr. Rawlings, was it because of tribal tendencies that compelled you to spare the rod and spoil Messrs Alex Segbefia and Carl Wilson after "seizing and later selling" individual vehicles from the Tema port under bizarre circumstances for profit, courtesy, Charles Owusu of the PPP? Do you concur Alex's nomination for ministerial appointment in view of his involvement with the shady 'car stealing ' syndicate?
17. As a former president, was it prudent for JM to overspend the national budget by Gh¢8bn. and also voluntarily pay so much dubious judgment debts to push Ghana into this economic dungeon to compel both the rich and poor to somersault?
18. Finally, in your opinion, does the JM government have any future when the Executive Secretary and the Chief of Staff – Messrs Atuguba and Prosper Bani - jointly decide to resign en bloc?
HUMOUR
Have Ghanaians noticed that JM's obstinacy for not settling local statutory bills even including the periodic payments to the physically challenged institutions like the Mampong Deaf & Dumb School, the Dzorwulu Special School, the Ankaful Leprosarium plus a few others and the District Assemblies Common Fund for government infrastructure development, the GETFund, the NHIS designated clinics and what have you that ought to be reimbursed their mandated quota for continued service to humanity for which his government has arrogantly and blatantly refused to honour, has propelled him to exhibit same incorrigible behaviour to the continental body to bring shame to us all? What advice has Mr. Rawlings given to his darling boy, JM for defaulting in the payment of the AU's statutory payments of $3m while JM's government saw wisdom to cough $5,600.00 to transport 500 NDC supporters to Brazil?. It is very often said that if your aggressor does not relax in his pursuit against your destruction, you also should not rest for a split second to flee to safety; to wit: in the Akan language, it says, "se dee otaa wo soo no se ommree a, wo nso wonnyae mmrika tuo."
To Mr. Kufuor; silence, they say, is golden! Remain silent to let him become the perpetual villain of the peace and a laughing stock if he still thinks he was in his thirties some years back in 1979. In terms of human and natural/mineral resources, Ghana has much more than la Cote d'Ivoire that was hit by civil war a few years back; yet, they are beaming with smiles due to good leadership and strategic planning. How old is Dr. Joshua Alabi of the IPS now UPS? Some say he is 60 years and one day old; his peers too say he is yet to clock 60; but after thorough investigation from the Public Records Archives & Administration Department near the YWCA, Accra, the author can confirm that he will clock 70 very soon. Hope Ghanaians remember how Professors Kwabena Frimpong-Boateng and Kwadwo Asenso Okyere of the Korle Bu Hospital and the University of Ghana respectively, were booted out from office. Why this crass vindictiveness?
CONCLUSION
To bring the curtains down, the author would like to drum home to Mr. Rawlings that as long as he does not desist from his incessant attacks on Mr. Kufuor and takes delight in descending to the gutters, some pro-Kufuor sympathizers like us, will equally break loose and let the same gutter politics be our daily bread and butter. After all, all die be die. After 35 years on, Mr. Rawlings has not learnt his lessons that he has now outlived his venom. If there was anybody he needs to straighten up, it was John Mahama and not John Kufuor, because he has behaved as the prodigal son and frivolous profligate spendthrift. Where is your cherished PV now?
Is he not dead and gone back to the unknown world? Did you know that he will die so soon? And was it not just Sunday, June 22, that the Great Ameer Maulvi Dr. Abdul Wahab Adam, the leader of the Ahmadiyya Movement passed on? Are we sane at all as a nation or daft and still snoring that nobody can call the bluff and profligacy of the government as well as its ineptitude and misplaced priorities? The author entreats Mr. Rawlings to read the Book of Jeremiah, Chapter 17:11 that reads, "As the partridge sitteth on eggs, and hatcheth them not; so he that getteth riches (undeserved power), and not by right, i.e. (through cheating, falsification of figures by the EC and perversion of justice as witnessed by all), shall leave them in the midst of his days, and at his end shall be a fool.
And as long as the Lord liveth, and the CJ, with all her mine of wisdom and richness of experience, has not yet realized the need to caution her five jurists who perverted justice in the EPH of last year, Ghana will see no political and economic peace until the end of his first term because the wrath of God prevails! Also, posterity will never ever forgive and forget the CJ as the worst and the morally weakest CJ Ghana has ever produced since the days of Sir Arku Korsah; and forever be an indictment to cast a big slur on her family and descendants. Why did Madam CJ not participate in the EPH that could have set the country ablaze but the Woyome case?
Her tenure would be greatly remembered as the era of hopelessness and helplessness; also, as one when her patriotism was needed most, rather reneged, and never exerted her supreme authority over burning national issues. Now to the judges re the verdict of the EPH of August 29, 2013 – Numbers 15:30-31 – Laws Concerning Presumptuous Sin – "But the person who does anything presumptuously, (because Ghanaians by nature, are not blood-thirsty, and that anything goes ('fa ma Nyame' – let the sleeping dogs lie) as JDM had already been president for 8 months, why not let him continue in office; what was the significance of the pink sheets, double registration and over-voting etc. that had been categorically spelt out by the EC?), whether he is native-born (all of them are Ghanaians)or a stranger, that one brings reproach on the Lord, and he shall be cut off from among his people. 31 'Because he has despised the word of the Lord (the judges who should know better, deliberately close their eyes to willfully and maliciously pervert justice as final arbiters), and has broken his commandment, that person shall be completely cut off; his guilt shall be upon him." The battle is the Lord's and vengeance belongs to him.
ADMONITION – 1 Kings 21:13-24
"And two men, scoundrels, (5 judges) came in and sat before him; and the scoundrels witnessed against him, against Naboth (Nana Akufo Addo), in the presence of the people, Thursday, August 29, 2013 during the 7-minute blitz verdict pronounced by chairman Justice William Atuguba –(13.00 hours – 13.07 hours) saying, "Naboth has blasphemed God and the king!"Akufo Addo has declared 'all die be die ' to put fear in Ghanaians. Then they took him outside the city, and stoned him with stones, so that he died – perverted justice to deny him his birthright - victory. 14 Then they sent to Jezebel saying, "Naboth has been stoned and is dead." …………23 "And concerning Jezebel the Lord also spoke saying, "The dogs shall eat Jezebel by the wall of Jezreel.' 24 "The dogs shall eat whoever belongs to Ahab and dies in the city, - (by inference, any group of persons who conspired to let JDM become president by all means and at all cost to enjoy the booty as beneficiaries) - and the birds of the air shall eat whoever dies in the fields – (here too, any member of that under-cover syndicate who happens to be outside the country's borders, shall all be applicable). Because of the evil committed against the people of Ghana and humanity for monetary gains, be it lawyers T.L. or Nana O. L. or T. T., with supportive brain-washing ingredients by Kwadwo Afari Djan, and adamant posture by the five unpatriotic justices, all those involved will suffer the fate of miserable deaths like what happened to Ahab and wife Jezebel. Your disappointed apprentice will continue to fumble in the governance of the country if even all the 'oil money' from the Arab World were brought in on a silver platter to salvage the comatose condition of Ghana's economy.
If the Lord should grant Mr. Mahama wisdom to govern this nation satisfactorily knowing well that the SC did not give a genuinely deserved verdict but rather postponed it to enable him finish off his term, then the Lord of the Sabbath that I worship was not the truthful God. He shall continue to be the partridge sitting on the strange eggs. And if there were any Ghanaian prophet who prophesied soon after Nkrumah's overthrow that Ghana will reach this corruptible stage of political crossroads of turmoil, economic turbulence, instability and octopus of problems; where the continued retention of 10 deputy regional ministers and many ministerial deputies were not of necessity; about 100 ministers and government appointees whose monthly stipends of Gh¢10,000.00 or ¢100m, plus fuel allowance of 45 gallons per week @ Gh¢15.00/gallon totaling Gh¢Pepepeeepee to ruin the economy, that person would be branded a false prophet and mercilessly stoned to death like Achan, Stephen or Naboth in the Holy Bible.
FOOD FOR THOUGHT
The former CEO of the NPA (the National Petroleum Authority), Alex Mould, Esquire, now GNPC boss 3 was purported to have authorized the monthly rental for a 5-storey building at a cost of $64,000.00. Suppose the landlord, who may be an NDC sympathizer, requested for a five-year contract how much will the total waste be whilst nursing mothers, due to poverty and no fault of theirs, sleep on bare floors with their newly born babies. Pathetic indeed! Does NPA have a statutory board at all? Why did he not suggest to his board to put up a similar structure with one year's rent? Are some Ghanaians in responsible positions very sensible at all or "Ye bedii keke!?
Ing. Jabesh Amissah-Arthur, the biological brother of the vice president, now heads the Bui Dam Hydro Project as the CEO. Is it accidental, conflict of interest or Kokofu Ball or job for the boys? But in view of the fact that most Ghanaians cannot have 3-square meals, this man of a spendthrift, has the guts (who born dog, Ludwig Hlodze) to construct a golf course at the Bui area at a prohibitive cost of Gh¢3m (¢300bn or some $935,000.00 for himself and other golfer friends, who will be visiting him for recreational purposes to deprive him of his city-dwelling at the expense of the Ghanaian tax-payer.
While the souls of men are dying and the hopes of Ghanaians dashed as a result of JM's incompetence with no savior in sight, has compelled a senior high school girl at the Agona Swedru School of Business to hang herself because her parents cannot pay for her school fees. Did the members of the National Economic Forum at Senchi listen to the wisdom and views of Thomas Kusi Boafo, lecturer in Economics at the Kumasi Polytechnic last Monday night (28/07/14) on Adom FM programme dubbed 'Burning Issues' hosted by Afua Pokuaa to whet their appetite on the ailing and hopeless economy that has £1.00 =Gh¢7.00; $1.00 = Gh¢3.80; €1.00 = Gh¢4.80 and the 1,000CFA = Gh¢7.00? Try to grab a copy of that self-explanatory clip.
If Ghana has produced hollow men like Ebo Barton Odro to become former Attorney-General and now 1st Deputy Speaker of Parliament, is that not the kind of economy that we will be faced with? Not until he rescinds his nauseating decision but to agree with the 11 SC judges on the Woyome scandal, then I will believe that he always washes his face from the chin to the eye brow which is abnormal. How many presidential staffers parade the corners of the country under the guise of national security to compound problems?