GTA Prepares For Emancipation Day Celebration 2014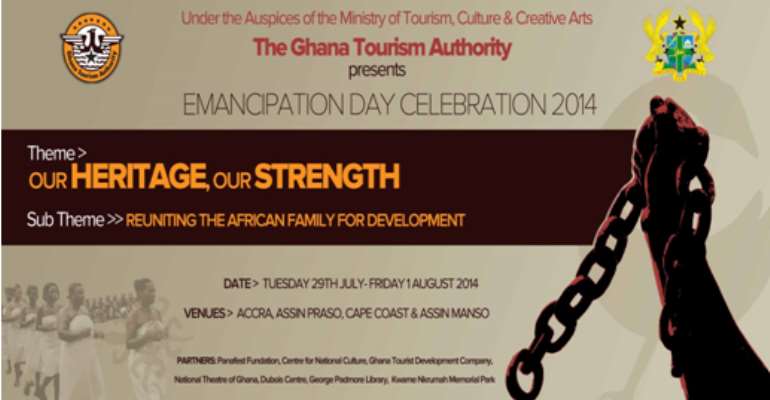 The Ghana Tourism Authority has released and outlined the activities for the Emancipation Day Celebration 2014. This year's Celebration scheduled for Tuesday 29th July- Friday 1 August 2014 is under the Theme: Our Heritage, Our Strength and the Sub theme is: ''Reuniting the African Family for Development''.
The Celebration as usual will start with a wreath-laying ceremony on July 29 to honour illustrious Pan-Africanists, Dr William E. B. Du Bois, George Padmore and Ghana's first President, OsagyefoDr Kwame Nkrumah.
The event continues on Wednesday 30th July with the Re-enactment of the Crossing of River Pra at AssinPraso in the Central Region.
The Reverential night session will take place on Thursday 31st July at the Cape Coast Castle. The celebration would be climaxed with a Grand Durbar of chiefs on Friday August, 1 2014 at Assin Manso in the Central Region.
This year's celebration marks the 16th milestone of Emancipation Day Celebration in Ghana.
Emancipation Day Celebration is an annual event observed to commemorate the resistance and liberation of African people in the Diaspora against enslavement and violation of their human rights. It is held on August 1, which marks the abolition of slavery in the British colonies in 1834.
The Emancipation Day celebration which originated from the Caribbean has been celebrated since August 1, 1834 when chattel slavery was finally abolished in the Caribbean. It has been on Ghana's tourism calendar since 1998. Ghana became the first African nation to join in the celebration to re-affirm its status as the gateway to the homeland of Africans in the Diaspora.

SIGNED
BEN OHENE-AYEH
PUBLIC RELATIONS MANAGER/GHANA TOURISM AUTHORITY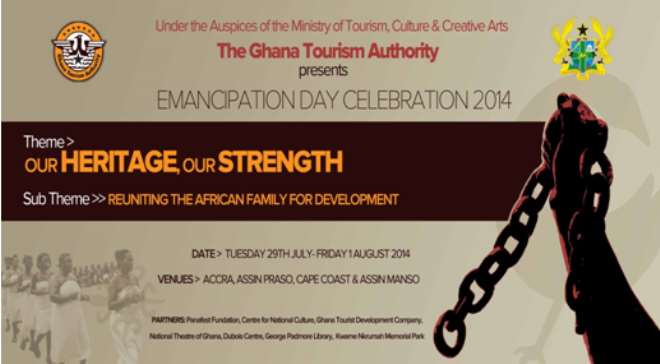 2014-07-15 234318