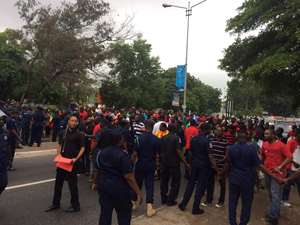 FLASHBACK! The 'Occupy Flagstaff House'  demonstrators
FLASHBACK! The 'Occupy Flagstaff House'  demonstrators
The organisers of the 'Occupy Flagstaff House' protest which came off on July 1, 2014, have launched another aspect of the crusade against what they term as 'mis-governance of the John Dramani Mahama-led National Democratic Congress (NDC) government.'
The new campaign, dubbed 'Red Friday,' which starts today, urges all Ghanaians feeling the pinch of the dire economic situation in the country to wear red dresses every Friday until the situation changes.
Explaining the motive for the Red Friday campaign in a press statement released yesterday, the group, known as the Concerned Ghanaians for Responsible Governance (CGRG), stated that it would press on through a campaign of civic engagement and mobilization solely aimed at bringing more concerned Ghanaians together to spur the kind of action needed to reverse the rapidly deteriorating economic situation, and to enhance the quality of political discourse.
In an interview with DAILY GUIDE, Rodney Hyde Longdon, an organiser of the group, explained that the Red Friday was to raise awareness to mount pressure on the government to address issues raised in the 20-point petition the group presented to the Presidency when it launched its first round of protests tagged, 'Occupy Flagstaff House.'
The group last week launched a widely publicized street protest composed mainly of middle-class Ghanaians who demanded President Mahama to resolve issues like reported cases of corruption in his government, infrastructure decay, worsening economy and general state of misery of Ghanaians.
According to Mr. Longdon, they would not 'sit back and watch Ghana needlessly slide into economic disarray.'
 
Inadequate Response
The petition presented to the Presidency last week Tuesday elicited some response from government, when the Deputy Minister of Information and Media Relations, Felix Kwakye Ofosu on Tuesday, outlined an elaborate list of projects and programmes that government was working on.
Apparently, the government expects the projects are a quick-fix to the economic nightmare dogging the country.
Government's response has received serious criticisms by the group which described it as woefully inadequate.   'We seem to be getting an indication that the government doesn't really care. Tuesday's press conference by the Ministry of Information smacked of arrogance, really.
'Such an unsympathetic and insensitive posturing by government is terrible. People are going through real hardships and you [Government] organise a press conference and come and list projects that government is doing, are those projects solving our problems?' Mr. Longdon fumed.
The deputy Minister listed a tall list of road, school, health and other infrastructure projects that the government is currently embarking upon or are planning to undertake as a response to the concerns of depreciating local currency, constant high taxes, erratic utility supply, inefficient revenue collection, government's wasteful spending, constant increments in prices of utilities and petroleum products, among others that the protesters listed in their petition.
'Are those projects solving our problems? What's the point in building a school if there is no chalk for the teachers to write on the board with? How do you build magnificent hospitals and change obsolete equipment and bring state-of-the-art equipment when people go there and they are turned away on their NHIS cards? What is the sense?' Mr. Longdon quizzed.
 
Indefinite Campaign
The Red Friday campaign is expected to extend indefinitely. 'We don't have a time limit for Red Friday…it is going to be every Friday. We do not have a specific time…things are fluid, things are changing with time,' Mr. Hyde Longdon told DAILY GUIDE.
According to him, Red Friday was a spontaneous suggestion from supporters of the 'Occupy Flagstaff House' movement which is thriving on social media.
'Red Friday is basically saying that 'Government, we have given you our petition but we are not done with you yet. Listen to our petition and we don't want you to come and talk plenty anymore, we want to see action. Enough of the talk; act!' That's what we are asking,' he articulated.
By Raphael Ofori-Adeniran