MoneyGram supports Abokobi with borehole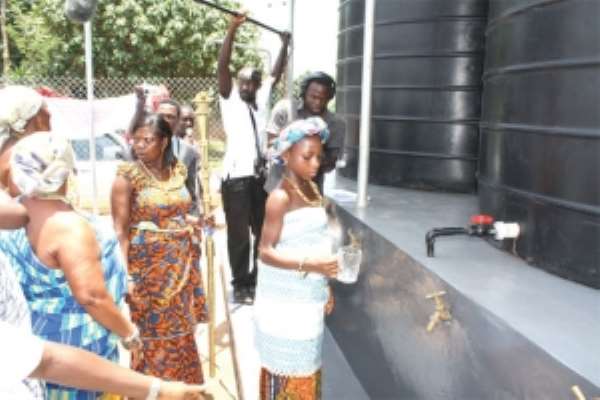 Moneygram, a money transfer organisation, has donated a mechanised borehole to the residents of Abokobi, a suburb of Somanya in the Yilo Krobo District in the Eastern Region.
The facility, estimated at GH¢20,000, will serve the community and neighbouring towns and villages.
The presentation was in response to the community's appeal to the government and non-governmental organisations for the provision of potable water.
The ceremony attracted officials of the company within and without the country, the municipal assembly and the inspectorate division of the Community Water And Sanitation Agency (CWSA). Corporate social responsibility  
Briefing the media, the Senior Marketing Executive of Anglophone West Africa of MoneyGram, Mr Kofi Akyea, said the presentation was in response to a Joy FM's news item about the lack of potable water in the area.  
He said the company provided the water system as part of its corporate social responsibility (CSR) to the community and the entire nation.
"It is our desire as a company to meet the plight of people in the communities in which we operate," he stressed. Residents 
Narrating the predicament of the residents before the introduction of the borehole, the organiser of the community water project, Mr John Asare, said the situation was very critical at the time the appeal was made.
Mr Asare, who is also a resident of the community, said the only source of water for the people was the 'Korle Dor' stream.
He explained that during the dry season, the situation became worse since they had to travel several miles in search of water.
The  queenmother of the community, Manye Nakie Obufo, advised residents to maintain the facility for generations yet unborn.