Aboakyer Board inaugurated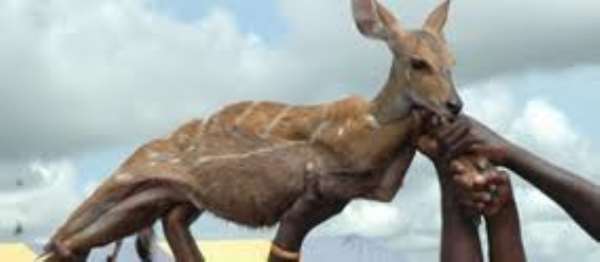 Aboakyer festival
Winneba (C/R) March 29, GNA - A- 13-member board of directors, headed by Mr. Alex Peter Acquah, educationist, has been inaugurated to see to the peaceful celebration of this year's Aboakyer Festival of the chiefs and people of the Effutu Traditional Area.
The members were made up of opinion leaders, representatives of the two Asafo Companies, namely, the Tuafo Number One and the Dentsifo Number Two, Sub Chiefs, Supis, and some elders of the town.
Other members were Neenyi Beedu the fifth, Neenyi Annobil the seventh, Neenyi Kaw Ansah, Mr. Ato Bortsie, Opanyin Kojo Mensah, Opanyin Kobina Otoo, all opinion leaders, Obatan Kweku Baiden and Obatan Kwesi Armah-Sekum,
The Superintendent Minister of the Ebenezer Methodist Church, Winneba, Right Reverend Maxwell Osei, who inaugurated the board, urged members to ensure that this years festival was celebrated peaceful to attract investors and tourists to the area.
Mr. Acquah, on behalf of the members of the board, expressed their appreciation for the confidence reposed in them, and gave the assurance that they will do their best to ensure incidence-free festival this year.
Mr. Acquah appealed to Effutu citizens to bury their differences in the interest of the development and growth of the area.
Leaders of the two Asafo companies in their option speeches, said members of the groups would not support any one who tried to forment trouble during the celebration.
GNA