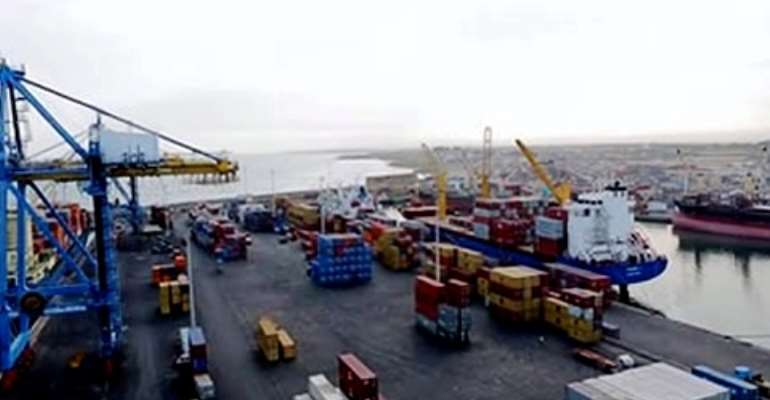 Ghana recorded over 21.5 million tonnes of maritime trade at its two ports in Tema and December 2013, according to Ghana Shippers Authority figures.
This was made up of about 16.5 million tonnes of imports and 5.0 million tonnes of exports.
The figure represents an increase of about 10.7 percent compared to 2012.
The data revealed that Port Tema handled more than 77 percent of the total trade which amounted to about 16.7 million tonnes, while Port Takoradi handled the remaining 4.4 million tonnes representing 23 percent of total trade during the period.
Additionally, total transit through the two ports totalled five percent or the total maritime trade for the country. This was an increase of more than 50 percent over the 2012 tonnage.
The transit tonnage was made up of more than 1.0 million tonnes of imports and 31,547 tonnes of export.
Total imports for the review period was 10.4 percent more than was obtained in 2012. Total exports also increased by about 11.7 percent over the 2012 tonnage.
Imports for the review period were slightly above 16.5 million tonnes.
This comprised 6.6 million tonnes of Liner items, 3.3 million tonnes of Break Bulk, 3.6 million tonnes, of dry bulk items and 2.9 million tonnes of "liquid bulk items."
Maritime imports for the review period increased by about 10.4 percent from that obtained in the previous year.
For the other types of trade, dry bulk imports decreased by 11 percent and liquid bulk by 28.6 percent.
The statistics revealed that liner import trade for 2013 was made up of items such as chemicals amounting to over 438,667 tonnes, and processed foods which were 1,215, 911 tonnes.
Other items included tiles amounting to 469,057 tonnes; frozen-meat and food were 452,220 tonnes; machinery and equipment had 345,437 tonnes; while polythene raw materials and bagged rice amounted to 599,413 tonnes and 51,444 tonnes respectively.