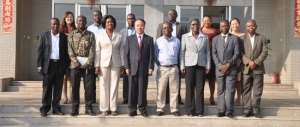 The Chinese Government is motivating companies and firms in China to invest massively in the manufacturing sector in Ghana to accelerate  Ghana's socio-economic development, the Economic and Commercial Counsellor of the  Chinese Embassy in Ghana, Mr Gao Wenzhi, has said.
"We are not only encouraging various companies in China to buy shares in manufacturing industries in Ghana to expand their operations but also motivating them to set up industries to manufacture various products that will boost  Ghana's economy," he said.
Mr Gao made the remark during a meeting with a cross-section of beneficiaries of Chinese sponsorship programmes in Accra last Tuesday.
About 14 representatives of the ministries of Education, Health, Energy and Petroleum, Finance, as well as the Accra Metropolitan Assembly, the Graphic Communications Group Limited (GCGL) and The Finder, who had benefited from a human resource development and co-operation programme sponsored by the Chinese Government, attended the meeting.
The meeting was to provide a platform for the participants to share their experiences and achievements from the seminars and training programmes.
It was also to enable Mr Gao to gather first-hand information for a review of the programme where necessary.
Addressing the meeting, Mr Gao said the reason for China's desire to set up manufacturing industries in Ghana was to help accelerate its economy, adding that no nation could develop without making good investments in its manufacturing sector.
"Infrastructure  also needs to be improved in Ghana to accelerate development and we will try our best to support you at that level," he promised.
He said like Ghana, China was a developing country but it had been trying to provide aid to other developing countries. 
Mr Gao explained that it was because the Chinese Government attached great importance to human resource development that it had, over the years, been sponsoring people from developing countries, including Ghana, to attend seminars and other training programmes in China.
Ghanaian beneficiaries
Since 2003, more than 2,500 Ghanaians have participated in programmes on human resource in China.
The courses had covered 20 fields, including agriculture, health and hygiene, trade and the economy, education, ICT, anti-terrorism and marine fisheries.
He said about 10,000 people from developing countries received training in China every year.
Explaining why the Chinese Government attached so much importance to the programme, Mr Gao said a programme developed on bilateral basis tended to be more effective because it was specific to the needs of a partner and, therefore, helped to achieve the needed goals.
In his contribution, the Director of Newspapers at the GCGL, Mr Yaw Boadu-Ayeboafoh, expressed concern over the cost of visa application for participants and called for its review.
He also suggested that media personnel sponsored to attend such programmes be attached to media houses in China.